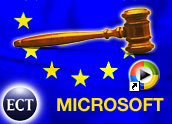 Microsoft today said it will not appeal a European Union court order to immediately implement antitrust sanctions. The defeat forces the company to remove its Media Player and video software from its Windows platform in the 25-nation block and to give interoperability information to rivals.
Microsoft lost a bid to delay sanctions imposed by the European Commission in December, but is nevertheless forging ahead with a separate, main appeal against the Commission's decision that Microsoft had abused is market-leading position.
"Microsoft has decided to forgo its right to appeal the Court of First Instance's … ruling of December 22, 2004," the company said. "Rather than seeking to suspend the Commission's remedies, Microsoft's focus now is on working constructively with the Commission on their full and prompt implementation."
Market Impact Slim to None
Microsoft said the first versions of Windows without Media Player will be available at EU retailers "in the coming weeks." Matt Rosoff, a lead analyst with Directions on Microsoft, told the E-Commerce Times that the software giant has little to lose by not appealing a ruling that it had little chance of seeing reversed.
"All Microsoft is forced to do is offer a version of Windows with the Media Player removed to OEMs to ship in the European economic region," Rosoff said. "I don't see a lot of OEMs demanding such a product. There is no appreciable consumer benefit."
Moreover, analysts said removing Media Player could even result in increased support calls to Original Equipment Manufacturers (OEM) from customers who are confused that a Windows Media file won't open.
Competitive Options
All in all, analysts don't see much opportunity for competitors like key rival Real Networks or Sony to grab market share from Microsoft. Rosoff said Real Networks might be able to strike a deal with an OEM to get its Real Player exclusively bundled. And Sony could attempt a similar move. However, Rosoff called the potential for success "long shots."
What could have some impact is Microsoft's forced compliance with a second key Commission order to make licensing information for communications protocols available to competitors. Rosoff said this is "a little stickier" because once the information has been released, it becomes difficult to reel back in.
"Microsoft will probably come up with some licensing restrictions on the information to make sure it can't get spread too widely and wind up in open-source products," Rosoff said. "It is a fee-based license, so Microsoft doesn't have to be given away for free."
Real Motive
Analysts said Microsoft is not too concerned about removing Media Player from its Windows bundle in Europe. The real concern is that the EU is attempting to set a precedent.
"Microsoft is not so worried about the specific penalties," Rosoff said. "It is worried about a government body telling them what they can put in their most important product."
Microsoft said it remains "very optimistic" as it moves forward in a process that analysts said could take two more years to fully resolve. The company said it is "encouraged that the December court order noted that a number of Microsoft's arguments could provide a basis for overturning the EC's decision."