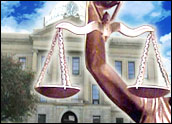 Microsoft has filed its first eight lawsuits accusing defendants of distributing counterfeit Certificate of Authenticity (COA) labels in an attempt to authenticate unlicensed software.
Yesterday's filings are the first fruits of the software giant's effort to identify and target computer resellers who allegedly buy or sell counterfeit COA labels.
"The fact that they have actually found pirated copies proves that the Genuine Windows program is working," Michael Cherry, a lead analyst at Directions on Microsoft, told the E-Commerce Times. "If this program can reduce piracy, then it's good for Microsoft, it's good for customers and it's good for resellers."
Genuine Windows
Under its Genuine Microsoft Software program, the software maker purchased hundreds of individual COA labels and computer systems with COA labels that allegedly were attached in an attempt to authenticate unlicensed software.
"The practice of selling or using COA labels that do not correspond with the appropriate software is the same as distributing an appraisal certificate for a diamond separately from the sale of the diamond," said Pip Marlow, general manager for U.S. Partner Enablement at Microsoft.
"A COA label has no independent value if it is separated from the software it authenticates," Marlow said. "The purchase program is one way in which Microsoft is responding to the feedback from our partners and customers who tell us that we need to take steps to protect them against dishonest dealers and resellers who are peddling unlicensed and counterfeit software."
Counterfeit labels are sometimes distributed and positioned as valid software licenses by businesses on the Internet. Stand-alone COA labels are often purchased by computer manufacturers that copy unlicensed Microsoft software onto computer systems and attempt to authenticate it with the invalid labels in a practice commonly known as hard-disk loading.
Microsoft's Claims
Microsoft claims these "stand-alone" COA labels are used to induce businesses and consumers into acquiring counterfeit or unlicensed software.
However, customers who acquire Microsoft software with counterfeit COA labels or who purchase computers loaded with unlicensed copies of Microsoft software on which COA labels are affixed are unable to obtain the technical support, valuable product upgrades and other value-added services available to customers who have genuine Microsoft software.
Another abuse of COA labels involves software resellers pairing the separated labels with unlicensed or counterfeit software. Such companies unfairly compete in the marketplace with the thousands of legitimate Microsoft partners that deliver honest value to their customers.
"Resellers who use illegitimate COA labels or pirated product keys to hoodwink consumers undercut honest businesses and create a competitive disadvantage in the marketplace," said David June, director of development and business relations for Northwest Computer Supplies in Bellingham, Washington. "The lost business opportunities for ethical companies are immediate and painful."
Slowing Piracy
Cherry said the slew of Microsoft lawsuits would not stop piracy anymore than arresting a handful of drug dealers will not stop drug trafficking. However, he said, this is a good start.
"This put counterfeiters on notice that Microsoft has a way to actually find them," he said. "We can't say that piracy is not over. But we can say that piracy just got a lot harder."
The eight lawsuits resulted from a Microsoft test-purchase program conducted over the past 12 months in California, Illinois, New Jersey, New York, North Carolina, Pennsylvania and Washington.
The lawsuits were filed against Monarch Technology of San Clemente, California; Kenneth Xu of Union City, California; Era Limited of Lake Zurich, Illinois; Micro Info Tech (USA) of Edison, New Jersey; Affordable Computer Warehouse of Clinton, New York; Warp Systems/Computers of Raleigh, North Carolina; Master Computer of State College, Pennsylvania.; and Software Provisions of Vancouver, Washington.
Defendants in each case allegedly continued their distribution of counterfeit COA labels or unlicensed software even after Microsoft contacted them before the lawsuits were filed requesting that they halt their illegal activities, according to the complaints.