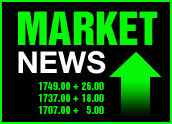 Stocks ended their winning streak to three sessions today as the Federal Reserve held true to recent form and raised interest rates another quarter point and after Google and Boeing turned in strong earnings reports.
The Federal Open Market committee did exactly as expected and boosted the overnight lending rate — the one the Fed charges banks to borrow money — a quarter percent to 2.5 percent. It marked the sixth straight increase since last summer.
Policy Unchanged
The Alan Greenspan-led Fed also made no change to its standing policy statement, making it likely that additional small increases in rates would continue to come until economic conditions began to change.
Markets were higher before the decision was announced, and after a brief dip, surged higher again at the close. The Dow closed at 10,596.79, a gain of 44.85 points, or 0.43 percent. The Nasdaq rose 6.36, or 0.31 percent, to 2,075.06 and the S&P 500 was up 3.78 points, or 0.32 percent, to finish at 1,193.19.
Also holding true to form was Google, which turned in what one analyst called "eye-popping" results that helped send its stock to record high levels. Blue Chip Boeing also impressed, beating forecasts and affirming widely held estimates for 2005.
Oil Down
Oil futures continued to retreat after making a hard charge at the US$50 level last week, dropping another 43 cents $46.69 per barrel on the New York Mercantile Exchange. The latest drop came as traders were faced with widely varying reports on oil stocks in the U.S. The official Energy Department tally showed a marked increase in both crude oil and gasoline stores in the past week.
The U.S. dollar lost some ground on the Fed's move and statement, with some traders speculating that a bolder statement would have lent support to the Greenback. However, it was trading higher by the end of the day against the yen and euro.
Dollar watchers will also be among those listening closely to President Bush's State of the Union address tonight to see if the administration signals whether it will take action to ensure the dollar remains strong.