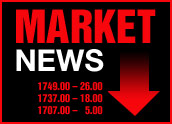 Stock prices fell sharply today amid a flurry of merger-and-acquisition news and some economic data, but most market watchers said the plunge was driven by profit taking after several strong weeks of gains.
The Dow dropped 106.48 points, or 1.01 percent, to 10,440.58. The Nasdaq was the day's biggest loser on a percentage basis, dropping 36.60 points, or 1.70 percent, to 2,114.65. The S&P 500 lost 13.18, or 1.11 percent, to 1,177.07.
The markets were busy digesting several slices of merger news, including reports that IBM was close to selling its PC division to Lenovo of China, and a rumored merger between Johnson & Johnson and Guidant that would be the year's third-largest takeover deal.
Worker Productivity
Investors were given some economic data to mull as well.
The Labor Department said worker productivity growth slowed sharply in the third quarter to its slowest rate in almost two years.
The 1.8 percent increase in productivity was seen by some as a sign that increased hiring might lie ahead as corporations that have maximized the productivity of their existing workforces have no choice but to hire additional workers.
Oil futures were lower ahead of the latest weekly data from the U.S. Department of Energy on how much oil and related products are in stockpiles on American soil.
Futures fell US$1.52 in New York trading to close at $41.46 per barrel.
World Trade Center
Meanwhile, the insurance sector was under pressure after a jury finding in federal district court in New York yesterday that found insurers could be forced to pay out for the September 11, 2001, terrorist attack on the World Trade Center.
A jury decided that the attack constituted two separate "insurable events."
The dollar remained under pressure against overseas currencies, with the greenback following to another record low against the euro and losing some recent ground it had made up against the yen.