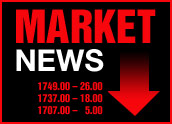 Inflation concerns drove down stock markets today, overshadowing outlooks from major retailers that suggest a strong holiday season is in the offing along with a continuing drop in oil prices.
The Labor Department reported early in the day that the Producer Price Index (PPI) rose 1.7 percent last month, the largest single-month jump in more than 14 years and nearly three times as high as consensus forecasts.
Though most of the jump was due to higher energy prices, the core rate — which excludes food and fuel — was still up 0.3 percent, more than had been forecast.
Retailers Mixed
Whether those extra costs are being passed on to shoppers yet will be clearer after tomorrow's release of the Consumer Price Index (CPI). While signs of inflation could indicate stronger economic expansion, investors fear the Federal Reserve Board will become more aggressive with interest rate hikes in order to keep price hikes in check.
However, investors seemed skittish, sending the Dow lower by 62.59 points, or 0.59 percent, to 10,487.65. The Nasdaq lost 15.47 points, or 0.74 percent, to close at 2,078.62. The S&P 500 was also lower, losing 8.38 points, which is 0.71 percent, to finish the session at 1,175.43.
The inflation worries drowned out strong fourth quarter forecasts from some major retailers that could portend a healthy holiday shopping season.
Wal-Mart, J.C. Penney and others offered strong forecasts for the fourth quarter. Wal-Mart's CEO predicted a holiday season that will be better than last year. Home Depot also boosted its outlook going forward after posting a 15 percent profit increase.
Oil Prices
All the retailers cautioned, however, that high prices for home heating fuels and gasoline could put a crimp in sales.
Oil itself was down yet again, dropping 76 cents a barrel in New York Mercantile Exchange trading to close at US$46.11.