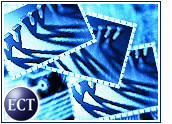 Online postage company Stamps.com (Nasdaq: STMP) said Friday that it cut about 25 percent of its workforce as part of a plan to reduce costs and turn a profit, and that chief financial officer Ken McBride will take over the chief executive post.
The layoffs are the latest in a series of restructuring moves begun lastOctober, when Stamps.com cut 40 percent ofits workforce and lost a number of key executives while waiting forbusiness to pick up. In February, the company shed another 150 jobs, or halfits staff at the time.
McBride takes over from Bruce Johnson, who has been serving as interim CEOsince last October's management exodus.
McBride, who has been with the company since April 1999 and has served as CFO since October 2000, said Friday's job cuts "accelerate the company's timetable for achieving cash flow breakeven." The company did not say whether it would takea charge to cover severance costs.
In July, when Stamps.com reported results for the second quarter ended in June, the company said it expected to post a profit in the second quarter of next year.
Net Postage Woes
Stamps.com has been focusing on its online postage operations, even asother companies abandon the market for Internet-delivered stamps. In April, Stamps.com bought a number of intellectual property assets from former rival E-Stamp, including its domain name, URL and several patents. What remained of E-Stamp was purchased by online education company Learn2.com.
Stamps.com, which has partnerships with the U.S. Postal Service, UnitedParcel Service, Federal Express and others, has nevertheless struggled tomake ends meet while waiting for demand for online postage services to materialize.
Company shares closed Thursday at US$2.30, down from a 52-week high of $8.56,and well below their all-time high of $98.50.
Some analysts say that the growing use of services like online bill payment mayreduce demand for stamps. Jupiter Research predicts that by 2005, more than40 million Americans will pay at least some bills online, while research firm IDC says electronic bill-payment services will account for about $1 billion inworldwide revenue by 2004.
Topping Estimates
Stamps.com's second-quarter results managed to beatanalysts estimates. The company said its efforts to cut costs helped boost its bottomline.
Before restructuring charges and writedowns, Stamps.com lost 10 cents pershare, compared with a loss of 72 cents a year earlier and 13 cents expectedby analysts. Revenue rose to $5.1 million from $3.7 million.
Legal Docket
Stamps.com is also embroiled in patent disputes with postage company PitneyBowes (NYSE: PBI). The company has sued Pitney Bowes over four patents itsays cover technology invented by E-Stamps' founder. Pitney Bowes,meanwhile, says Stamps.com is infringing on its patents covering Internetpostage and shipping technology.
And like many struggling dot-coms, Stamps.com is the subject of a class-action suit brought on behalf of investors who bought its shares back in 1999.