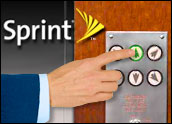 Sprint Nextel announced a new voice and data pricing plan Thursday, offering customers access to a bevy of services for US$99.99 a month. The Simply Everything plan gives users unlimited access to voice, data, text, e-mail, Web surfing, Sprint TV, Sprint Music, GPS (global positioning system) navigation, Direct Connect and Group Connect.
As handsets become increasingly powerful and offer users more functionalities, Sprint's latest pricing plan "removes the barriers" so customers can freely use all of the features their phones offer, said Dan Hesse, president and CEO of Sprint Nextel.
Current and new Sprint Nextel customers will be able to choose the "Simply Everything" plan beginning Friday.
Everything in One Basket
Sprint Nextel's new plan is available on both Sprint's CDMA (code division multiple access) and iDEN (Integrated Digital Enhanced Network) networks. Existing subscribers will not have to extend their contracts to switch to the new plan; however, new users will have to sign a two-year service agreement.
Families who want to get in on the plan will receive an incremental $5 discount for each of up to five lines on the same bill. Adding a third line would cost an additional $89.99, the company explained.
Sprint's announcement came the same day it released its fourth quarter earnings report. The carrier reported a loss of some $29.5 billion dollars as well as the exodus of some 700,000 customers. Sprint estimates that another 1.2 million subscribers would defect during the first quarter with more losses coming in the second quarter.
This is bad news for the company, and rolling out the new plan probably will not dig them out of the hole they are currently in, said David Chamberlain, an analyst at InStat.
"Sprint's problems have been coming for a very long time. Those customers who have decided to leave aren't likely to change their minds for a new pricing plan. Ditto for pulling people from other operators," he told the E-Commerce Times.
However, survey results show that the most common reason people do not use mobile applications more often is due to a general perception that the services lack value, according to Chamberlain.
"[They are] too expensive, too difficult to purchase, too hard to use. Flat rate for all apps, particularly the popular apps like navigation and text could entice a hard core of users who are already spending a lot on value-added applications," he said.
The Flat-Rate Wars
Last week, all three of the other top four carriers in the U.S. — Verizon, AT&T and T-Mobile — unveiled their own flat-rate unlimited voice services, with all three priced at $99. Of those, T-Mobile was the only carrier to also throw in unlimited text messaging.
"Suddenly all major competitors jumped in with a similar price and plan a few days later. That gave Sprint the chance to see what the competition was offering, and be able to position Sprint's offer to be lower priced and more simple," said Jeff Kagan, a telecom industry analyst.
"If this was Sprint's plan all along it was a brilliant move. It lets them price their offering better than the major competitors," he added.
The idea for unlimited services began last year, according to Kagan. It started with companies such as Cellular South, which rolled out an even lower-cost version of this same plan.
"[It has] been very successful. Suddenly it's an industry trend, and I think the marketplace likes the idea. This is the beginning of lower prices in wireless. We will see this trend continue going forward," Kagan told the E-Commerce Times.
This is a historic moment for the cellular industry, he said.
"We have watched a variety of new services, especially data services, enter the marketplace. This has been exciting, but expensive. We are watching another historic change in the cellular industry with regards to price. This should be just like what Digital One Rate did in the 1990s — make what you and I pay simpler to understand and lower," he explained.
Who Wins?
In order to avoid being labeled a "me-too," Sprint Nextel needed to differentiate its plan and reinforce its direction into wireless data after the other three carriers announced their own plans, said Phillip Redman, an analyst at Gartner.
While it is nice to see a trend toward simplifying wireless plans — which have been over complicated and user-unfriendly since inception — the plan will only appeal to a select group of subscribers, according to Redman.
"This plan will have limited appeal because of its high cost. It's great marketing, but only appeals to the high-volume users. Sprint needed to do this competitively. I don't see this hurting them, but I don't see it helping much," he told the E-Commerce Times.
"It needs to come up with more of a corporate strategy and identity first," Redman continued.
Although competition remains fierce between the four major players, the new plans being rolled out serve as more of a boost in what is traditionally the slowest quarter of the year. They also serve as marketing to generate user interest, he explained.
"Price declines and simplification are good for both [the industry and consumers] as it drives adoption and growth. However, this isn't really a price war, more of a bundling strategy," Redman noted.
The carriers, according to Redman, need to further enhance pricing and bundling simplification across all of their products.
"New technologies, like VoIP (voice over Internet protocol) over wireless, will begin to drive new voice and data models in the next few years. It makes sense to generate good will with customers now, versus the complicated and non-user friendly plans that most subscribers deal with today," he concluded.