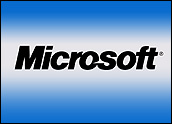 Microsoft startled Wall Street — as well as the tech community — with earnings that point to at least two quarters of declining profit and revenue, as well as plans to slash its workforce by 5,000.
The rapidly declining economy, of course, is at the root of Microsoft's financial situation, which even Redmond admits it cannot yet fully comprehend. Microsoft announced it will not be releasing revenue forecasts or earnings for the rest of its fiscal year, which ends June 30, 2009, unless it is to ratchet down performance expectations even further.
For its fiscal second quarter, which ended Dec. 31, Microsoft posted a profit of US$4.17 billion, or 47 cents per share — two cents less than what analysts had been expecting. In the same period last year, it registered a profit of $4.71 billion, or 50 cents.
Revenue came in at $16.63 billion; market expectations had been $17.1 billion.
Microsoft will also be trimming its workforce by 5,000 — roughly 5 percent — in the first sweeping layoffs in the company's history. The initial 1,400 cuts will take place immediately.
Stock Market Reacts
Not surprisingly Wall Street responded with yet another plunge.
Microsoft shares were down 8.5 percent, helping to push the Dow to a 200-point loss Thursday morning. Citi and Bank of America were the Dow's biggest losers, with Microsoft coming in at third.
"Investors sold shares of the software giant after the company confirmed what many had already suspected: Deteriorating global economic conditions have forced Microsoft to implement its first round of layoffs ever," Frederic Ruffy, an options strategist at WhatsTrading.com, told the E-Commerce Times.
The news was not received as a complete shock on Wall Street, but its scope was surprising, Ruffy continued. "There have been rumors swirling in recent days about potential layoffs after The Wall Street Journal ran a story on January 15 mentioning that possibility."
The disappointing earnings, coupled with the announcement that the software maker could not provide any further guidance for the rest of the year, indicate that conditions are deteriorating more rapidly than many had feared, he said.
Another Bellwether
Thursday's news is yet another sign of gloom for the economy in general and the tech market in particular, Charles King, principal with Pund-IT, told the E-Commerce Times.
"Over the last six to eight weeks, we have been seeing reports of layoffs from a number of vendors — particularly in the PC component market. Sales of PCs dropped off the cliff towards the end of last year, and [vendors] did not get any relief during the Christmas buying season," he said.
Indeed, disappointing earnings from Intel, Seagate and AMD are an illustration of how closely connected the computing industry is, King continued. "When PCs sales crater, it doesn't mean that just HP or Dell are in for some tough times — they ripple all way through the supply chain to processor vendors and hardware suppliers and operating systems such as Windows."
Well Diversified
Still, the fact that Microsoft is suffering points to a particularly ugly economic slowdown — not that the market needed any such evidence.
"Microsoft is one of those companies that have been relatively immune to layoffs because it is so well diversified," King said, "but with the uncertainty in the market, it is prudent for a company to take a conservative defensive stance. Companies are cutting expenses and savings costs wherever they can."
The job cuts are not likely to have a material impact on product development, noted King — although the announcement was lacking in specifics. "Usually, though, in the first round of any series of job cuts, a company looks to reduce headcount and consolidate jobs in what you would call 'noncritical' areas."