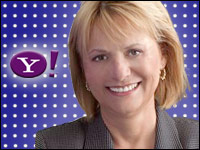 Struggling Internet portal Yahoo has tapped former AutoDesk CEO Carol Bartz as its new CEO.
Bartz, 60, will face a monumental task in attempting to turn around Yahoo, which was the No. 1 destination on the Internet before being supplanted by search engine powerhouse Google a few years ago.
Bartz brings a combination of toughness and many years of operational experience to Yahoo. However, her one shortfall appears to be a lack of experience in the very market where Yahoo continues to lose share to Google: online advertising.
Yahoo President Susan Decker, who had been one of the candidates for the CEO spot, has resigned from the company but will stay on for the duration of Bartz's transition period. Decker has been with Yahoo since 2000.
Yahoo's stock was up 2.23 percent to US$12.37 per share in mid-day trading on Wednesday.
Strong Pedigree
Bartz has spent most of the last 20 years in Silicon Valley, building a reputation as a blunt and honest leader who knows how to turn around flagging sales organizations.
She was CEO of AutoDesk, a maker of architectural and engineering software, from 1992 to 2006. During that time, revenues increased from less than $300 million to more than $1.5 billion.
"When she came into AutoDesk, it wasn't doing all that great either," Rob Enderle, principal analyst at the Enderle Group, told the E-Commerce Times.
Bartz, who has a computer science degree from the University of Wisconsin, was also an executive at Sun Microsystems, Digital Equipment and 3M.
"She's a seasoned technology CEO that appears to have had quite a bit of success in a pretty lengthy tenure at AutoDesk," Derek Brown, an equity analyst at Cantor Fitzgerald, told the E-Commerce Times. "She has deep relationships up and down [Silicon Valley.]"
Bartz is a director at Cisco Systems, Intel and NetApp.
No Online Ad Experience
Despite her impressive technology and management resume, Bartz has little to no experience in the world of online advertising.
"Her success at AutoDesk speaks for itself," Brown said. "What's unclear is whether that success will translate easily to an Internet content and services company that is consumer-focused with a model built around advertising."
Bartz probably was not the Yahoo board's first choice for the CEO post, said Enderle. "I'd guess she was a second-tier or third-tier choice. I would think that first-tier candidates see Yahoo as a career ender."
In most turnaround situations, it's clear what business a company is supposed to be in. At best, that picture is muddied at Yahoo, which has a number of different businesses and service offerings, Enderle observed.
"It's almost like a startup," he said, "but if she pulls this off, she's going to be golden. She'll go down in the history books."
Top Priorities
Bartz's challenges out of the gate are both numerous and onerous.
"Her top priority should be to stabilize the ship," Brown said. "They've had an incredible amount of turnover over a lengthy period of time. There's been an ongoing instability with Yahoo's product road map."
Bartz needs to decide in which direction the company should move, which products should be its focus, and where it should devote its resources, he added.
The way Enderle sees it, priority No. 1 for Bartz is to get costs in line with revenues. "If she doesn't do that, she won't get a chance to do anything else. She has to get the company out of a position where it's on the edge of going out of business."
The Microsoft Factor
Bartz's appointment has revived speculation concerning a potential deal between Yahoo and Microsoft. Last year, the software giant made an unsolicited offer — to the tune of $47 billion — to acquire Yahoo, a bid rejected by Yahoo cofounder Jerry Yang, who was then CEO.
After a few more failed attempts to hook up with the beleaguered Internet property, Microsoft declared itself no longer interested in a deal. However, Microsoft CEO Steve Ballmer has said that Microsoft might be interested in acquiring Yahoo's search business.
"It remains to be seen what Bartz's vision of the future is," Brown said. "I think a very legitimate question is whether a search deal with Microsoft benefits Yahoo over the short, medium and long term or just the short term?"
The Bartz appointment doesn't lend any certainty to a possible future deal between the two companies, in Enderle's view.
"Microsoft might buy technologies, but it's not going to buy into the whole mess," he said. "She might sell search to them to get the cash she needs, or do a technology partnership of some kind. Those are both possible."
What About Icahn?
Another looming question is how Bartz, who has a reputation for tough-mindedness and bluntness, will get along with activist investor Carl Icahn. Last year, Icahn exerted his influence over the Yahoo board and was outspoken in expressing his frustration about the company's decision not to negotiate a sale to Microsoft.
"Carl Icahn is also pretty tough and pretty blunt," Enderle said. "She is one of the few folks who might be able to put Carl in his place and vice versa. Yahoo needs a strong personality in that role, and she is clearly that. It might be a good match. Often, two strong people, if they don't bump heads too hard, end up having a great deal of respect for one another."