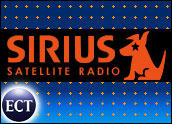 Digital television broadcasts targeted for children will soon be available in Chrysler, Jeep and Dodge vehicles, starting with the 2008 Chrysler and Dodge minivans.
The service, coming from Sirius Satellite Radio (Nasdaq: SIRI), will be called "Sirius Backseat TV." While the name implies it will be available only to TV monitors in vehicles' rear seats, Chrysler said monitors in dashboards will also show the programs, but only when the car transmissions are in "park."
No mention was made about vehicles equipped with manual transmissions. A Chrysler spokesperson could not be reached for comment.
The service will provide live TV programming from Nickelodeon, Disney Channel and Cartoon Network.
Sound and Vision
The digital television will operate through a satellite video receiver and two roof-mounted antennas, according to Chrysler. The company noted that rear-seat passengers can watch Sirius Backseat TV while those in the front can enjoy Sirius Satellite Radio.
The system can be controlled by an entertainment unit mounted in the rear seat area or by the radio head unit in the dashboard, said Chrysler.
The recommended price of US$470 includes the first year of service when packaged with Chrysler's Rear Seat Entertainment System and Sirius Satellite Radio. The service fee thereafter will be $7 per month when the $12.95-per-month satellite radio service is also purchased.
Chrysler said its first vehicles to offer the television will be the 2008 Chrysler Town & Country minivan and the 2008 Dodge Grand Caravan minivan. However, the auto maker said it plans to subsequently offer it in the 2008 Chrysler 300, Dodge Charger, Dodge Magnum, Jeep Commander and Jeep Grand Cherokee.
Nice, But Necessary?
Offering digital television most likely won't be enough to solve the financial difficulties facing either Sirius or Chrysler.
"I have a hard time seeing a significant consumer demand for that at this point," mobile technology analyst Alan Chapell told the E-Commerce Times. "That's just my gut feeling."
Kids in cars already have quite a bit when it comes to entertainment options, Chapell pointed out.
"The people who want to provide that level of entertainment for their kids is a market that's decent but not huge," he added. "And that market is pretty much served by just throwing in a few DVDs in the car. Nowadays, many vehicles have DVD players built in. I'm having a hard time seeing how the Sirius television is a big upgrade to that."
More Value
"I think it will help Sirius, and ultimately the merged companies (Sirius and XM Satellite Radio) to extend their value proposition as to the entertainment they want to offer," Thilo Koslowski, lead automotive analyst and vice president at Gartner told the E-Commerce Times.
Digital television for vehicles has been discussed "for quite some time," but there were technological hurdles that needed to be cleared, particularly bandwidth, he explained.
"I think the automotive industry has certainly realized it's not about selling metal anymore," said Koslowski. "It's about selling value that goes beyond the actual driving experience. This exclusive deal … is a nice way for Chrysler to offer something unique to its customers."
Nevertheless, Koslowski noted mobile telephone carriers are quickly moving toward offering lots of digital entertainment and information that is likely to give XM and Sirius significant competition.