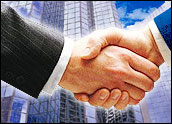 Sirius and XM — the two providers of satellite radio service in the United States — on Monday announced a plan to combine operations in a US$4.6 billion merger, but by Tuesday the deal looked to face significant regulatory hurdles.
The two companies agreed to a "merger of equals," which would create a single satellite radio service with more than 14 million subscribers.
As each company has spent large sums to attract and keep customers, such a merger appears all but inevitable given the tenuous economics of the satellite radio business.
Under the terms of the deal, XM shareholders would receive 4.6 shares of Sirius stock for each XM share they hold.
Stock in both companies moved significantly higher in morning trading on Tuesday, suggesting that investors believe the deal will eventually overcome what is expected to be a tough review by the Federal Communications Commission (FCC).
'Next Logical Step'
Executives from both companies said they believe the deal has a better than 50 percent chance of FCC approval and that they would make concessions to ensure the merger goes through — such as supporting a la carte programming for the first time and possibly other discounts to protect consumers.
Sirius shares were up 8.4 percent to $4.01; XM stock soared 12 percent to $15.62. Both companies had seen their shares sag in recent weeks as their growth rates began to slow amid continued struggles with profitability.
The merger represents "the next logical step in the evolution of audio entertainment," one that will create "unprecedented choice for consumers, while creating long-term value for shareholders of both companies," said Sirius CEO Mel Karmazin, who will become the combined firm's CEO.
The merged company will have a presence in an increasing number of new car models, more portable radio styles and a broader range of programming, he added.
XM Chairman Gary Parsons will become chairman of the new company, which will sport an expanded board that includes Karmazin and representatives from two automakers — GM and Honda America.
"The combined company will be better positioned to compete effectively with the continually expanding array of entertainment alternatives that consumers have embraced since the FCC first granted our satellite radio licenses a decade ago," Parsons said.
Broad Spectrum Securities analyst Jonathan Jacoby said that the chances of approval coming within a year were "less than 50 percent."
The companies offer a sound argument in favor of the merger: Without the deal, neither company will survive. "The fact that XM and Sirius are not yet profitable should work in their favor," said Credit Suisse analyst Bryan Kraft.
Although the FCC emphasized when it first licensed the two firms that it would not support a move to sell their licenses to one another, the circumstances have changed over the past decade, Kraft noted.
"Regulators want the holders of these licenses to have a sustainable, stable business model. If the market is defined as terrestrial radio and MP3 players, HD radio and Internet radio, the deal will likely be approved," he added.
At one point last year, XM was spending the equivalent of a full year's subscription fees to acquire new customers — and that those customers had the option of canceling their subscriptions at any time, claimed JupiterResearch analyst Barry Parr.
Regulator and Congressional Scrutiny
As much as Internet companies were once willing to overspend in order to grab customers, the two satellite firms have been in danger of overspending on marketing and customer acquisition. At least one XM executive had resigned in a dispute over the marketing expenses, Parr noted.
The FCC offered no formal comment on the merger plans, which will also need to be approved by the U.S. Justice Department's antitrust division. Still, some lawmakers were calling for a detailed review, with congressman Edward J. Markey (D-Mass.), chairman of the U.S. House telecommunications and Internet subcommittee, saying it "merits the utmost scrutiny by Federal policymakers and regulators.
"The merger of the only two satellite radio companies must be assessed with an eye toward ensuring that it does not have a similar, deleterious effect on diversity on the dial and localism in radio coverage and reporting," Markey added.
The National Association of Broadcasters also took a stand against the merger. In the past, regulators would not allow the two major satellite TV companies — DirecTV and Dish Network — to merge for fear of creating a monopoly, Executive Vice President Dennis Wharton noted.
"When the FCC authorized satellite radio, it specifically found that the public would be served best by two competitive nationwide systems," Wharton said. "Now, with their stock prices at rock bottom and their business model in disarray because of profligate spending practices, they seek a government bail-out to avoid competing in the marketplace. We're hopeful that this anticonsumer proposal will be rejected."