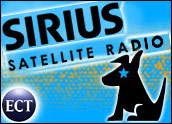 In its latest move to promote its plan to merge with XM Satellite Radio, Sirius Satellite Radio says it will offer lower-priced packages to consumers if the companies are allowed to join.
The goal, Sirius noted in a federal filing, would be to offer customers fewer channels at a price less than the current basic package of US$12.95 per month, with the possibility of letting consumers choose which channels they pay for.
The big question, however, comes back to the ultimate purpose of offering lower prices — is it for customers, is it a revenue-generating move, or is it simply designed to appease regulatory concerns over the merger?
Avoiding Monopoly Accusations
"I think it's more driven at regulatory concerns that the FCC (Federal Communications Commission) and Congress and other antitrust organizations have," Chad Bartley, senior research analyst for Pacific Crest, told the E-Commerce Times.
"I think it's definitely directed at those bodies and trying to satisfy them, because if this is approved, you're creating a monopoly where one entity owns the satellite market and all the spectrum and licenses, and one concern is pricing and their potential to harm consumers," he added.
While paying the monthly subscription fee is voluntary, consumers do have a vested interest in the satellite radio hardware that lets them receive the signals in the first place, hence the possibility that consumers could be abused by rising prices.
Customer-Friendly Move?
Regardless of original intent, Bartley said it would ultimately be positive for the consumer to have more of an a la carte offering.
"If you look at the retail channel for Sirius and XM, demand has basically fallen off a cliff. I think part of it is due to cost, not just the device, but $13 a month, which is not a huge price on its own," Bartley explained. "But when you look at the other entertainment offerings out there, you're already paying for cable, Internet, phone, NetFlix, iTunes and whatever. In the scheme of things the consumer wallet is only so thick, so a la carte options are good."
Uncertain Future
Standing alone, each company is facing challenges with profitability, and the $13 billion merger faces an uncertain future. By merging the two companies, the new entity could save on marketing and operational costs, making a more efficient firm that could more readily compete with other forms of entertainment and news found online, on mobile phones and on traditional radio.
"The wild card, even if they do merge, is they will have a lot of incremental and new costs that relate to the satellite and terrestrial repeater and infrastructure technology," Bartley noted. "There will be a lot of new costs that might offset those new savings. … It's a big question mark."