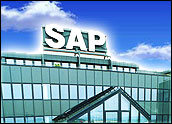 SAP has inked a deal to acquire mobile and database software maker Sybase for US$5.8 billion in cash — or $65 per share. That translates into a purchase price that is more than 55 percent over Sybase's trading price before rumors of the deal became public, which was $41.57 per share. The deal, which still requires regulatory and shareholder approval, has prompted much debate: Do the benefits of acquiring Sybase's mobile application functionality justify the premium SAP is willing to pay?
It is clear that "mobilizing" enterprise applications is a key shift that SAP should focus on, N. Venkatraman, a business professor at Boston University, told the E-Commerce Times. "Still, paying a 60-plus percent premium is staggering."
In a conference call discussing the acquisition, SAP executives said it would allow the company to grow even faster, especially in the rapidly evolving mobile space.
SAP envisions integrating mobile functionality with its own complex ERP family of applications to give users extensive reach into a business operation — from tracking orders to managing inventory to setting deliveries — directly from their handsets.
Money's Worth
In fact, SAP, Sybase and their end-users are likely to see far greater advantages from the acquisition than gaining traction in the mobile space, Dana Gardner, principal analystInterarbor Solutions, told the E-Commerce Times. "What intrigues me about this deal is that the companies fit together at a several places — there are a number of complementary areas besides mobile."
For instance, there is Sybase's core database and application development, which SAP can use — although admittedly it would require a lot of integration work, Gardner said. "Still it's a good fit in terms of bringing a higher-performance database into SAP."
Sybase's SMS capabilities are also attractive, he said. "Sybase has a large business supplying infrastructure to mobile carriers for their mobile messaging — it is high-performing, text-routing capability. SAP has recognized that the relationship between companies and their customers is moving towards social media capability, or in this case SMS."
Even the companies' respective vertical and geographic strengths fit well, noted Gardner. Sybase is strong in financial services and the Asia region; SAP in manufacturing, retail and Europe.
"So SAP paid a premium price, yes, but it was not outrageous. The premium shows what an important buy this is for SAP," Gardner said.
Mobile Play
There is a good reason, though, why SAP is highlighting the mobile fit and why much of the industry has seized on those capabilities to the exclusion of other synergies. Mobile is an important space that few business software companies have well penetrated, said Cindy Jutras, a vice president in research development at the Aberdeen Group.
"The whole concept of the real-time enterprise and connecting mobile decision makers is going to be significant for several industries," Jutras told the E-Commerce Times.
Thus far, end-users have been reluctant to embrace the technology — but as they realize its potential, and how well the latest generation of software has become, that will change, she predicted.
"There is going to be huge demand for transactional and enterprise data on the handset," Jutras said.
Executing the Deal
Indeed, the biggest difficulty for SAP and Sybase is not going to be justifying their marriage but the actual integration.
The two companies are coming from different tech approaches and vastly different corporate cultures, Gardner observed.
"Sybase is based in Northern California — SAP in Germany," he pointed out. "Sybase was an early Java adopter and has a proprietary approach to development."
Also, SAP's track record in successfully merging acquisitions is not as stellar as Oracle's, which has absorbed countless companies with little upheaval, said Venkatraman.
"BusinessObjects acquisition integration is at best a mixed-success," he observed. "So, the integration and evolution of the software platform to the mobile arena will be a major challenge that should not be minimized."
Oracle's track record is going to be the impetus that will force the two companies to merge well, Gardner predicted. "When you have something like Oracle and what it has accomplished breathing down your neck it helps you focus. SAP knows if it doesn't make this merger work well, it will have a difficult time competing with Oracle and IBM."