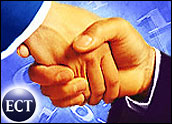 Sanyo has traded off a little in a crowded mobile technology field to gain a lot in its core business, with the sale of its lagging mobile phone operations to Kyocera.
The two electronics firms announced the deal — potentially worth US$472.3 million — on Monday, with Sanyo transferring its $375 million mobile phone operation to Kyocera. No final price for the deal has been set, but it estimates a range between $375 million and $468 million. The transaction, set to be finalized April 1, moves about 2,000 Sanyo employees to Kyocera.
As for how much impact the deal will have on the mobile phone technology sector — "in a nutshell, not a lot," said Michael Voellinger, vice president of enterprise mobility for Telwares.
"You're talking small player plus small player equals small player," he told the E-Commerce Times. "Obviously, Sanyo is struggling. Kyocera is still way behind."
One Step Forward
For Kyocera, the acquisition may be a way to give its U.S. operations a lift, through Sanyo's strong connection to Sprint Nextel in the U.S.
"The interesting spin on this is the relationship Sanyo has with Sprint, so Kyocera now gets a distribution channel in the U.S.," Voellinger said. "But the question is, what's going to happen with Sprint?"
On Friday, Sprint Nextel shares closed at $8.70, down sharply from $11.52 a day earlier.
"They're cutting back, and their stock dropped 25 percent on Friday," Voellinger said.
Sanyo saw selling its mobile phone unit to Kyocera as key step toward reversing financial troubles that forced a recent $2.8 billion bailout by a consortium of investors.
The move marks an exit from a business in which Sanyo has been a player since 1994 — but it's also a crowded field, with rivals such as Sony, Sharp, Toshiba, Casio, Hitachi, Fujitsu, Mitsubishi, NEC and Panasonic.
"Sanyo's core market is still going to be in electronics," Voellinger said. "It's almost an R&D business. This is just a good way of shedding a non-core business."
For Kyocera, the move doesn't do much, he added.
"Even commingling the two businesses, it's probably only sixth or seventh in the world, so the market share isn't there," Voellinger said.
Niche Focus
Unloading the mobile phone business is a major step in Sanyo's quest to reach an operating profit of 100 billion yen (US$943 million) in three years, says Kentaro Yamagishi, a company executive director and executive vice president.
"Sometimes, you may be increasing market share and decreasing the return on investments; a better strategy is to focus on a particular niche and service it really well," Bill Hughes, principal analyst with In-Stat, told the E-Commerce Times.
The move can work for both companies, he noted. "You have players that are highly niched and making money hand over fist but making much smaller revenue, and then you have companies in the middle making much lower profit shares. Sanyo and Kyocera fall into that area."
Market share equals profit, and Kyocera acquiring Sanyo's mobile phone unit may help both companies, Hughes said.
"By combining companies, you can get rid of certain redundancies, but it's really hard to try and get economies of scale in manufacturing," he explained. "Each market is different."
Long-term outcomes are hard to predict, but from a general standpoint, Sanyo made a good move, said Hughes.
"Sanyo has been struggling, and they're hoping this move is going to strengthen their position," he concluded.