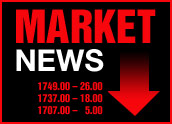 Consumer electronics giant Sanyo saw its shares lose more than 20 percent in overseas trading Friday after the company acknowledged that Japanese regulators were looking into past accounting practices.
The company confirmed that it was cooperating with Japan's Securities and Exchange Surveillance Commission, which had requested information about Sanyo's earnings.
Sanyo did not comment on the investigation, but Japanese newspaper Asahi Shimbun reported that the agency appears to be looking into whether or not the electronics giant under-reported losses by as much as US$1 billion in 2004.
Shares Plummet
The news sent investors running for the exits, with Sanyo shares sliding more than 20 percent in trading Friday, wiping out some $700 million in market capitalization value in the process.
Sanyo has struggled with financial losses in the past three years as it faces a brutally competitive pricing market for many of its products, including cell phones, digital cameras and portable music players.
Last year, the company sold more than $2.5 billion worth of preferred stock to keep its doors open as well as underwrite a restructuring that has shuttered numerous factories.
Among the buyers was Wall Street banking house Goldman Sachs, which saw its ownership stake — which it can convert into shares and sell publicly starting next month — plunge in value in Friday's stock-market sell-off.
No Apparent Threat
Reports out of Japan suggest that while Sanyo reported operating losses of approximately a half-billion dollars for 2004 — most of it from its numerous subsidiaries — it managed to post an overall profit. Actual losses may have been more than $1.5 billion, which would have dragged the company into the red for the year.
There does not appear to be an immediate threat to Sanyo's business operations — the issue may be as simple as the firm's accounting practices, although a large fine or other regulatory action could affect how Sanyo operates.
"A negative outcome from the investigation would likely result in a further weakening of Sanyo's brand equity and its operating performance," said a report from corporate bond rating company Fitch. Otherwise, Fitch said it believed "any negative cash flow impact on the company resulting directly from the investigation may not be material."
Audit Interruptus
Published reports in Japan noted that the auditing firm that gave its blessing to Sanyo's year-end results in 2004 has been in hot water with regulators.
The firm, known now as Misuzu, was forced to suspend its audit practice temporarily after being implicated in accounting fraud at a Japanese cosmetics firm, Kanebo. It was also the auditor for Nikko Cordial, Japan's third-largest stock brokerage firm, which is now restating past results to correct accounting errors, as well.
Dark Days
The losses at Sanyo appeared to be focused on its LCD unit, which it liquidated last year, and one of its numerous chipmaking divisions.
Many of Sanyo's products were once strong profit producers but have more recently become commoditized amid competition from cheaper alternatives made in China and elsewhere.
That reality helped drive Sanyo to partner with Nokia last year to manufacture cell phones that could target Motorola's market share in high-end phones, noted Strategy Analytics analyst David Kerr. In addition, Sanyo has spun off some of its chipmaking assets.
"As the market shifts, a company like Sanyo suddenly finds itself in a lot of low-margin businesses," Kerr said.
Trouble Ahead?
In Japan, regulators are taking a harder line against what they see as improper or misleading accounting practices.
One risk for Sanyo is that a regulatory crackdown could include de-listing from the Tokyo Stock Exchange, which could put the company in grave danger, money-wise.
Last year, when Japanese regulatory investigators began asking questions about Internet firm Livedoor, that company was de-listed from the exchange.
"We can't deny the possibility of a share de-listing," Credit Suisse analyst Koya Tabata wrote in a recent report.