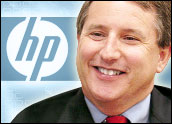 The Congressional panel probing Hewlett-Packard's use of pretexting and other tactics during its investigation of boardroom press leaks is now focusing on a stock sale by HP CEO Mark Hurd.
Lawmakers from the House Energy and Commerce Committee are interested in Hurd's reasons for cashing out some US$1.37 million worth of HP stock on the same day he was interviewed by the company's attorneys, and just a week before news of the boardroom scandal broke in the news media.
Seeking Information
Representatives John Dingell and Bart Stupak, both Michigan Democrats, wrote to Hurd earlier this week and sent a copy of the letter to Securities and Exchange Commission (SEC) Chairman Christopher Cox. The letter suggests that an Aug. 25 stock sale by Hurd did not appear to be part of an existing scheduled sale program.
"A key issue in the Subcommittee's investigation is how much Hewlett-Packard management knew about the board-leak investigation, when they knew it and what actions they took in response," the lawmakers wrote in the letter.
No one at HP was available to comment on the request for information, which came from the two ranking Democrats on the committee. The request includes a Dec. 21 deadline for a response.
The fact that some HP executives cashed out stock after they learned of the spying issues — but before the situation became public — is the focus of insider trading charges leveled by shareholders who had previously sued HP executives for allegedly damaging the value of their investments.
HP had hoped this issue would be resolved by the end of the year, the request seems certain to drag the boardroom scandal into 2007.
Keeping His Distance
Having Hurd drawn into the mix on the scandal could be a significant development, as well. The CEO's ability to remain above the fray during the revelations has helped keep HP on track.
In fact, HP stock has largely weathered the storm, even climbing some in the weeks after the news began to break. In early trading Thursday, HP shares were again up, rising 0.2 percent to $39.67.
Hurd's distance from the main spying scandal has been one reason why HP has come through largely unscathed to this point, with no notable customer defections and continued investor support, Gartner HP Vice President Martin Reynolds told the E-Commerce Times.
Even with Hurd in the committee's crosshairs, HP's "spying scandal is seen as being isolated from its business. Customers don't see how it spreads to impact their relationships with HP," Reynolds said.
The new request for information also serves as a reminder that the Congressional committee that forced more than a dozen members of HP's management team to appear before Congress — with many refusing to testify by invoking their Fifth Amendment rights against self-incrimination — has not wrapped up its work.
That committee may still push legislation to the full Congress, to formally ban the practice of pretexting or using false identities to obtain phone records of others.
The letter asks Hurd to explain whether or not the stock sale was planned, and notes that ongoing scandals related to options backdating is raising "questions about whether executives are cashing in while in possession of potentially damaging material facts that shareholders do not know.
"Please state whether this is or is not the case with your transaction and further please inform us whether any other HP officers or directors engaged in similar transactions during this period," the letter concluded.
Bad Timing
A private shareholder lawsuit against HP was amended last month to include insider trading charges against eight top executives, including Hurd.
All told, the suit claimed the insiders dumped more than $41 million worth of stock before the public became aware of the juicy boardroom scandal, which eventually led to the resignation of three board members including Chairwoman Patricia Dunn.
Dunn is also among those facing criminal charges in connection with the leak investigation, which used pretexting, e-mail tracing and other techniques to spy on board members and journalists.
For HP, the stock-sale questions are at least an unfortunately timed distraction. HP has been actively touting its future growth opportunities, using its analyst day to reiterate a strong forecast for 2007 and say annual sales will pass $100 billion by 2008.
It also purchased information management firm Knightsbridge and struck an alliance with Microsoft to comarket its Windows Vista operating software and "people ready" software offerings to enterprises.
Speaking to analysts, Hurd also said more job cuts and other cost-trimming measures may be needed at HP, suggesting the turnaround plan he's credited with engineering is far from complete.