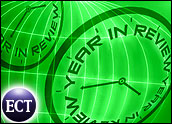 During 2006, Enron executives were sent to jail for their role in the corporate scandal that rocked the U.S. and brought about sweeping regulatory reforms meant to protect investors and raise the bar among corporations.
In passing Sarbanes-Oxley, Congress hoped to avoid such high-level corporate scandals in the future, and return investor confidence in American business. While investors clearly have more confidence — as evidenced by the strong stock-market run of 2006 — the scandals haven't gone away.
In fact, 2006 had more than its share of high-profile corporate missteps. Some were, again, enough to warrant criminal charges while others recall the accounting scandals of past years.
At year's end, a slew of companies, including some of the biggest names in technology, still have options backdating investigations under way.
Sarbanes-Oxley and the Enron aftermath has had impacts, James Hoopes, the Murata Professor of Business Ethics at Babson College, told the E-Commerce Times. Many businesses have spent heavily to comply, he said. The events of 2006 have led him to conclude, however, that the regulations didn't get to the root of the matter, leaving largely untouched the "leadership culture of corporate America.
"The idea is that Enron was an exception, a few bad apples," Hoopes said. "In fact, however, the arrogance, self-righteousness and unexamined values that underlay Enron and the 2001-2002 wave of corporate scandals continues largely unabated and at unacceptably high levels. Public cynicism will continue at high and justifiable levels until business leaders begin to know themselves."
Options Galore
Some observers say it did not count as a scandal, but the revelation that more than 150 public companies were probing possible options backdating certainly cast a long shadow during 2006.
In the wake of initial findings in March, some 18 CEOs and other top executives stepped down amid charges that options had been granted and dated to coincide with dips in stock prices, a practice that maximized the monetary benefit for executives.
Scores of companies have restated past earnings, in the process eliminating some US$5 billion in profits on paper, according to recent data. Leaders of two companies, Brocade Communications Systems and Comverse Technology, face criminal charges and Home Depot has admitted that its backdating practice went back 25 years.
A number of tech companies found themselves ensnared as well, and many are hoping to set things right heading into 2007. Graphics chip maker Nvidia in November took a charge of $127 million to correct its books.
Apple Computer has acknowledged that backdating occurred, but says the options given to CEO Steve Jobs — which make up virtually all of his pay for leading the company — were not among those backdated. Apple is facing a year-end deadline from Nasdaq for restating its past earnings.
As with other recent scandals, however, the stock options mess seems to have spared companies their overall reputations. Apple stock soared during most of 2006 on the strength of its computer and device sales.
"Apple is as well positioned as any time in the history of the PC to boost its market share and improve profitability," claimed Equity Research analyst Jonathan Hoopes. Hoopes and others credit Apple with taking a proactive approach to revealing the options mess.
Though shareholder lawsuits lurk in the wings, Hoopes thinks the company's exposure to financial payouts is limited, and as with others, remains focused on Apple's market opportunities.
HP Scandal: Embarrassing, Not Damaging
That same mantra — that the scandal doesn't matter, essentially — has carried Hewlett-Packard through 2006 with only minor dents to its corporate image, despite a head-long crash with a scandal complete with boardroom spying, alleged fraud and heated board of directors meetings.
HP's scandal unfolded on the public stage over the course of the fall, with executives dragged before Congress to testify about their use of pretexting to obtain phone records — or refuse to do so, as many chose.
By year's end, three directors, including Chairwoman Patricia Dunn, were gone from HP. Dunn faced criminal charges and a handful of other executives in the legal and security divisions were also on the street.
Throughout it all, HP stayed on course, with CEO Mark Hurd credited with steering a turnaround that didn't swerve despite the hairpin turns thrown at it as the scandal grew. In the days after the spying revelations, HP stock actually climbed. By November, it was again the world's top PC maker, ousting Dell from that perch after several quarters.
The Art of Recovery
How executives respond to crises and scandals often determines the final outcome as much as the scandal itself, Mark Stevens, CEO of global marketing firm MSCO, told the E-Commerce Times.
Former Enron CEO Kenneth Lay's decision to shift blame led to him eventually being convicted and sent to jail — after hundreds lost their jobs and millions of dollars worth of pensions in the process, Stevens said.
By contrast, Omnimedia Chairwoman Martha Stewart largely stood up and took the blame during her own insider trading scandal and as a result, emerged, after her own stint in prison, stronger than ever.
"How well corporate managers engage in the art of recovery is what differentiates a great businessperson from a mediocre one," Stevens explained. "How company leaders handle the disaster and face the pain has tremendous influence over the outcome."
So far, Hurd is scoring high marks for not only his reaction to the spying scandal but also his ability to remain above the fray. HP's not entirely out of the woods, with a formal Securities and Exchange Commission (SEC) probe recently acknowledged. Still, most observers expect the company to be as strong as ever in 2007.
Blasts From the Past
For some companies, new scandals aren't as much the problem as putting older issues to rest.
Just ask telecom gear maker Nortel, which began talking about turnarounds in 2004 — after jettisoning a CEO, CFO and other top execs — only to have the same old issues return for an encore during 2006.
Or ask Microsoft, which may have thought it put its time as the poster child for anti-competitive market behavior behind it when it managed to strike an agreement with U.S. regulators that allowed it to remain a single company.
Instead, Microsoft spent most of 2006 in various European courtrooms and in the court of public opinion, seeking to satisfy regulators that its Windows XP operating system wasn't harming competitors in Europe, even as it prepared to roll out the next version of the platform, Windows Vista.
Unfortunately for Microsoft, the year will come to an end without any clear resolutions. However, a decision on its appeal of regulators' actions against it may come down early in 2007 and pave the way for a happy new year for the software giant.
The Whatever Factor
Investors, customers and the general public seem to have grown somewhat immune to corporate scandals of varying degrees, even tolerating apparent criminal behavior from vendors as long as it doesn't interrupt their own businesses.
In the case of HP, "customers have made the distinction between what's important to them and what is getting the most public attention," Gartner Vice President Martin Reynolds told the E-Commerce Times. "The investigative methods they used drew unwelcome attention to the company, but it was seen as being isolated from the day-to-day operations, which is what customers really care about."
Whether or not this year's batch of scandals will engender new laws or regulations remains to be seen. Congress appeared destined to outlaw the pretexting practices used by HP, but that drive seemed to have cooled, set aside during election season, although bills remained active as the year drew to a close.
Also still up for debate is whether the post-Enron batch of regulations has changed the way corporations operate.
Lobbyists are pushing hard to weaken Sarbanes-Oxley and may find traction in a new Congress, Dennis Payette, associate professor at Adelphi University's School of Business, told the E-Commerce Times.
Meanwhile, as both options scandals and the HP debacle demonstrate, boards still are not as independent of the daily operation of a business as the law wants them to be. "There hasn't been enough time for boards to evolve as independent bodies as I think they will do based on shareholder demands for accountability," Payette said. "There is still a lack of full understanding of the fiduciary duties of board members, and until that happens, more problems will occur."
2006 in Review, Part 1: Mapping the New Media Landscape
2006 in Review, Part 2: Search Wars Raged, Did Anything Change?