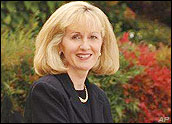 The boardroom investigation scandal at Hewlett-Packard claimed another high-profile resignation Thursday, with General Counsel Ann O. Baskins quitting, a move announced just hours before CEO Mark Hurd and other executives were due to testify before Congress.
HP announced Baskins' resignation in a filing with the Securities and Exchange Commission (SEC). That filing outlined an extensive legal agreement surrounding the departure, and said Baskins had agreed to cooperate with ongoing investigations into the tactics used to track down the source of board-level leaks at HP.
Also Thursday, Baskins refused to answer questions before a Congressional committee, asserting her Fifth Amendment rights against self-incrimination. Several other figures in the scandal, including the CEO of the investigation firm hired by HP, joined her in pleading the Fifth.
The scandal has already led to a handful of resignations, with one board member leaving in protest of the tactics used in the investigation — which included pretexting to obtain the phone records of board members, HP employees and some journalists. A second board member quit after being identified as the source of the leaks, and former Chairwoman Patricia Dunn, who reportedly oversaw the investigation, resigned last week. A second high-ranking attorney inside the company has also quit his post.
HP said in the filing that it has agreed to cover Baskins' legal fees in connection with the ongoing criminal and civil investigations into the tactics used, and that it would agree to accelerate the vesting of some stock options, allowing her to cash in about US$4.6 million worth of stock by the end of November.
Testimony Previewed
Meanwhile, the Congressional committee that both Hurd and Dunn were scheduled to testify before on Thursday released copies of their prepared statements earlier in the day.
Both executives had agreed to voluntarily appear before the House Committee on Energy and Commerce — which has been looking into the telephone records and privacy issues for several months — while other players in the scandal, including at least two HP employees and the head of the outside investigative firm hired by HP, have been subpoenaed to testify.
Hurd's comments will be the most closely scrutinized. So far, the CEO has been able to remain above the fray of the scandal, a key factor since Hurd is largely credited with engineering HP's ongoing turnaround.
In his testimony, Hurd will apologize for the tactics used and say the desire to root out the leaks blinded those involved to the ethical issues surrounding the investigative techniques employed.
"What began as a proper and serious inquiry into leaks of company information became a rogue investigation that violated our own principles and values," his statement reads. "There is no excuse for this aberration. It happened; it will never happen again.
"The ends came to justify the means," he adds. The investigators "lost sight of the values of this company. They lost sight of the values that this company has always represented."
Pleading Ignorance
The CEO also takes some of the blame, but without placing himself in the midst of the inquiry, saying that he was told of an ongoing leak inquiry when he joined the company in early 2005. He plans to say that he was given — but did not read — a March, 2006, report on the investigation. "I wish I had asked more questions. There are signs I wish I had caught," he says.
Hurd will also acknowledge being told of a plan to send false information to a reporter via e-mail, but says he was not aware that software had been attached that would allow the data to be traced afterwards.
For her part, Dunn will emphasize the damage that can be done by board-level leaks, which cause an erosion of trust among directors and can damage a company's reputation.
She also says that she knew phone records were being accessed, but was under the impression "that such records could be obtained from publicly available sources in a legal and appropriate manner." She adds: "I now believe that not only I, but all of the executives upon whom I relied at HP, whose integrity I have never questioned to this day, were similarly confident that these records were accessed under fully legal circumstances."
Dunn will also press Congress to clarify the legal issues raised by the HP case. "The fact that so many lawyers who were involved in the HP matter could turn out to be either so mislead or so uncertain as to the legality of 'pretexting' speaks volumes as to the need for unambiguous legislation to protect individual privacy," she says.
Keeping the Faith
For their part, lawmakers seemed skeptical that HP executives were not aware that what they were doing was wrong.
Rep. Joe Barton, a Texas Republican who chairs the committee, said in an opening statement that pretexting "in plain language, is pretending to be somebody that you're not, to get something you probably shouldn't have, to use in a way that's probably wrong."
Barton also noted that several of the witnesses called by the committee had said they would not answer questions, citing their Fifth Amendment right to avoid self-incrimination. "It's plain to me that if you have to invoke your Fifth Amendment right, you're probably doing something that's illegal," he said.
Once again, investors were unfazed by the resignation of the top attorney from HP or from having its top-ranking executives testify to Congress. HP shares were up a full percent to $35.74 in late morning trading, though they started to lose some ground as the parade of HP figures were shown on TV pleading the Fifth before Congress.
The scandal has had some unintentional but positive side effects for HP — elevating Hurd to the Chairman post, for instance, and doing an almost complete make-over of the company's board of directors, Enderle Group Principal Analyst Rob Enderle said.
"The scandal has to be very embarrassing for HP, but the end result may be a stronger company," claimed Enderle. "If it can stay the course through all this and if its competitors, such as Dell, continue to falter, it will only solidify the turnaround that Hurd has engineered."