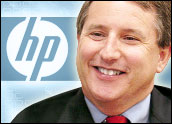 Hewlett-Packard CEO Mark Hurd scheduled a press conference for late Friday afternoon, seeking to answer questions about his involvement in the boardroom-level investigation into press leaks that is now the subject of a criminal probe.
HP announced that Hurd would speak to reporters after the U.S. stock markets closed for the day, or around 4 p.m. EDT.
Spinning Out of Control
The move comes as Hurd faces mounting pressure to make bold moves to contain the scandal, which started in the boardroom and has resulted in the resignations of three board members — including Chairwoman Patricia Dunn. The SEC, private attorneys and the California Attorney General are now conducting their own investigations.
Dunn resigned from the board after acknowledging she had overseen an investigation into media leaks that included the use of pretexting to obtain phone records of board members, employees and members of the press.
In what observers say is full-scale damage control after calls were made for Hurd's resignation, HP scheduled the press conference and announced that Hurd would travel to Washington, D.C., to testify to a congressional committee about the investigative tactics used by Dunn and an outside firm hired to ferret out the source of the leaks.
Because he is relatively new to the CEO's post, Hurd had been seen as staying out of the fray of the investigation, which may have begun when Carly Fiorina held his post. However, one published report Thursday said e-mails and other documents suggest Hurd was at least kept apprised of the investigation's progress, while another said he may have helped set up a "sting" operation involving a newspaper reporter.
Above the Fray?
Hurd's being dragged into the scandal — which the California Attorney General suggested could result in criminal charges in a matter of days — could significantly change what had until now been seen as a non-material distraction for the company.
Hurd has won accolades for his work in turning HP around, helping it to regain the PC-sales crown from rival Dell, improving its bottom line and making it more competitive overall.
"Hurd is driving HP's turnaround, so for him to be pulled into this mess is not good news for the company," said Enderle Group Principal Analyst Rob Enderle. If nothing else, Hurd's credibility with Wall Street and with employees could be damaged, he added.
Dunn stepped down, Hurd was given the chairman's role, and some analysts suggested that the latter move indicated the board is confident that he was not close enough to the investigation to be forced to resign.
HP stock stumbled Thursday after the first reports hit that Hurd knew of both the leak probe and some of the tactics it allegedly involved — including pretexting, in which investigators pose as a person to obtain their phone records. That practice, while not explicitly illegal, is said to be what law enforcement is focusing on, with possible fraud or forgery charges to come.
HP shares lost more than 5 percent of their value during the day Thursday, but were holding their own in midday trading Friday, falling just 0.3 percent to US$34.76.
What Now?
Some of the pressure was taken off Hurd early Friday when California Attorney General Bill Lockyer said in a TV interview that his office had no evidence linking the CEO to the crimes. He added that the investigation was ongoing, however.
In a press release, Hurd said Friday's news conference would focus on what HP is doing to address the fallout from the investigation. "We plan to give as much clarity as we can to these matters," he said.
Investor nervousness about Hurd's future is most likely overreaction. "At this point, we do not believe Hurd will be forced to step down, and as a result, we do not see the ongoing investigation as having a significant impact on HP shares," Standard & Poor's analyst Richard Stice wrote in a research note.