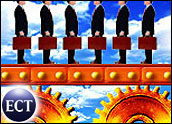 Leading mobile phone handset maker Nokia said it would create a joint venture with Japanese consumer electronics producer Sanyo in a bid to better reach key markets, especially the United States.
Nokia and Sanyo said the yet-unnamed joint venture would be largely separate and have offices in San Diego and in Japan. Financial terms were not disclosed.
The companies said the venture will be up and running sometime during the third quarter of this year and will focus on making and selling mobile phones using the Code-Division Multiple Access (CDMA) standard. They cited opportunities to advance research and development and the ability to quickly bring to market CDMA phones under a separate brand.
More Opportunities for R&D
The partnership will aim to ramp production up to about 35 million handsets per year over time.
"We estimate that the creation of this separate, associated company will provide Nokia with financial benefits from the start," said Nokia Chief Operating Officer Olli-Pekka Kallasuvo. "It also offers both parties timely access to R&D competencies that complement their own internal strategies."
The move is an aggressive one by the company that already leads the handset market. Finland-based Nokia captured 32.6 percent of the market in the third quarter of 2005, according to research from Gartner.
Nokia has most of its success in Europe and the Far East. In the U.S. — where its WCDMA standard based on GSM, a competing technology to CDMA, is not as widely adopted — it is somewhat lagging. Motorola has made significant market share gains in the U.S. in recent quarters, largely on the strength of its Razr line of phones.
According to research firm IDC, Nokia holds less than 14 percent of the U.S. market, putting it in fourth place and well behind Motorola, which holds 33.5 percent, and lagging LG Electronics, at about 20 percent and Samsung, at 15 percent. That U.S. market share was once flipped, with Nokia holding some 30 percent.
Needed Boost
The venture should also help Sanyo, which has struggled badly to retain its long-time status as a top electronics manufacturer and has said it would lose as much as US$2 billion in the current fiscal year. Sanyo's mobile phone efforts, which have resulted in meager market share gains — though it does make batteries for many phone lines — got a boost last year when it was tapped to make the MVP phone, which is customized to receive the new ESPN Mobile multi-media service.
Sanyo has also recently secured assurances from Japanese banks that it would be backed with additional resources to keep it solvent while it makes job reductions and adjustments to the changing market, where it faces fierce competition from other electronics makers, including those in China and other low-cost countries.
Sanyo President Toshimasa Iue said the deal would "lead to raising our position in the global market" thanks in large part to "Nokia's strong brand" and its existing portfolio of CDMA phones.
Sanyo brings its own CDMA expertise to the partnership, including existing supply deals with major wireless network carriers in the U.S. and Japan.
The two companies likely hope their union will succeed on a scale similar to that of the Sony Ericcson joint venture, which now ranks fourth in the world in terms of handset sales.
Because the competing technology standards have different levels of adoption around the world, Nokia is likely not concerned about siphoning sales away from its GSM handset business.
Custom Phones Coming?
One strategy of the venture may be to attack the market that style-conscious consumers like Motorola has done so well with by selling the Razr phone, including a new hot-pink version, said David Kerr, Vice President of Strategy Analytics' global wireless practice.
Nokia may also infuse the venture with its tried-and-true practice of offering phones customized to work with a carrier's network, an especially important consideration as next-generation networks roll out and as carriers seek to maximize the amount of revenue they gain from each user for accessing next-generation services such as music and video downloads and mobile gaming.
"The device makers that let carriers maximize their revenue stream will be the favored ones going forward," Kerr said. "They will clearly go after the mid to high-market with this venture, which is exactly where Motorola has been the most successful."
Enderle Group principal analyst Rob Enderle said Nokia has also excelled at what he calls mass customization, with Nokia churning out phones that users can make their own by applying changeable skins.