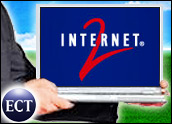 It is designed to increase network speed, bandwidth, and the ability to share vast amounts of data quickly and easily, but according to copyright owners, the next-generation Internet known as Internet2 has also been facilitating illegal, unlicensed trading of copyrighted music and movie files.
The Recording Industry Association of America (RIAA) alleges the widespread downloading of pirated music and movies via the medium and is filing 405 lawsuits against students at 18 different U.S. colleges, including the Massachusetts Institute of Technology, Carnegie Mellon University, Michigan State University, the University of California at Berkeley and the University of Southern California.
More MPAA Suits on the Way
The RIAA said the downloading of unlicensed works via Internet2 using a file-sharing application known as i2hub — allowing full movie downloads in less than five minutes or a tune in 20 seconds — was "an emerging epidemic of music theft."
The music industry group was joined by the Motion Picture Association of America (MPAA), which announced plans for its own Internet2 suits, and the RIAA claimed to have evidence of Internet2 infringement at another 140 colleges and universities across 41 states.
"While these schools were not included in the initial round of lawsuits, letters are being sent to each university president alerting them to the illegal activity occurring on their campus," said an RIAA statement.
'Extensive Infringement'
The RIAA said the Internet2 infringement was "extensive," indicating it chose to limit its initial lawsuits to 25 per institution based on the most egregious offenders. The industry group, which has filed thousands of lawsuits against individual users accused of illegal file trading since 2003, said the average number of files shared by the Internet2 users now being sued is more than 3,900, with some accused of sharing as many as 72,700 files, including audio, software and video.
"This next generation of the Internet is an extraordinarily exciting tool for researchers, technologists and many others with valuable, legitimate uses," said RIAA president Cary Sherman in a statement. "Yet we cannot let this high-speed network become a zone of lawlessness where the normal rules don't apply."
Claims of Illegal Distribution
The RIAA claimed that among the 405 lawsuits filed against the students this week, a total of more than 930,000 songs and 1.5 million files were distributed illegally. The group also indicated college students found the i2hub file-sharing appealing because they "mistakenly believe their illegal file-sharing activities can't be detected in the closed environment of the Internet2 network."
RIAA spokesperson Amanda Hunter told TechNewsWorld that to identify the Internet2 file traders, the organization used a process similar to what it has done with the regular Internet — using Internet protocol addresses and file-trading sessions to track users.
Violation of Policies
Internet2 is a consortium of 207 universities, government and private companies developing and testing network applications and technologies for a faster, more resilient and secure Internet. Basically a second round of the collaboration that gave birth to today's Internet, the goals of the project include the creation of a network capable of serving the nation's research community; next-generation Internet applications; and transferring new network services and software to the broader Internet community.
Internet2 spokesperson Lauren Kallens told TechNewsWorld that the alleged file-trading activity is not only illegal, but is also a violation of Internet2 acceptable use policies as well as campus rules that forbid it.
"In general, obviously illegal file sharing is an issue of major concern to the Internet2 community," Kallens said, indicating that universities are in a good position to enforce the policies. "We are a community and it is a community issue. We are working together to address it."
Covert File Swapping
Yankee Group senior analyst Mike Goodman, who covers peer-to-peer (P2P) file trading, said he was not surprised that the higher bandwidth Internet2 was being used for file sharing, particularly given the high numbers of college students who are free file traders.
"It's a faster Internet," Goodman told TechNewsWorld. "That means it's that much faster to download files. That's fundamentally what Internet2 was designed to do: large file transfers. It wasn't designed so you could swap movies, but [unlicensed file trading] is never a function of technology, it's a function of what people do with technology."
Goodman, who agreed the students may have felt their activities would go unnoticed because they were not on the main network, said despite the RIAA's claims, its lawsuits against users have had minimal impact on free file sharing.
A Real Deterrent?
Goodman reported that while there were about 4.3 million P2P users when the RIAA suits began in September, 2003, the number of free file sharers today has nearly doubled to 8.5 million users.
"So clearly, you can see just how effective these lawsuits are," he said.