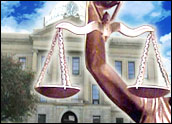 The Recording Industry Association of America (RIAA) has announced that its member companies filed a new wave of copyright infringement lawsuits against 754 individual file-sharers.
A share of this wave of lawsuits filed Wednesday was brought against users of university computer networks. Twenty individual file sharers at the Columbia University, Old Dominion University, the State University of West Georgia, the University of Pennsylvania, Westchester University and Widener University were named in the suit.
Residents of Pennsylvania, Virginia, Georgia, Missouri, New York, Connecticut, Illinois and the District of Columbia were among those included in the suit. While the names of the alleged violators are yet unknown, the RIAA does have numerical ISP account addresses the defendants used.
RIAA's Tough Stance
"Enforcement online or on the street is always a means to an end — helping foster business environments where legitimate commerce can take root and flourish, while creators can earn their fair share," RIAA President Cary Sherman said.
Sherman pointed to new research from Ipsos-Insight and Jupiter Media that documents the increasing awareness and growing popularity of legal online music services. Indeed, legitimate peer-to-peer distribution systems are emerging, and Sherman said the best is yet to come.
"With legal online retailers still forced to compete against illegal free networks, the playing field remains decidedly unbalanced," Sherman said. "That's why continued enforcement against individuals stealing and distributing music illegally is essential, as is holding accountable the businesses that intentionally promote and profit from this theft."
Deterring Music Downloads?
The RIAA has typically settled copyright infringement suits for about US$5,000 each. But is the threat of shelling out greenbacks for getting caught swapping music files deterring folks from using peer-to-peer networks? There is some evidence the lawsuits have swayed some would-be users, according to the Pew Internet & American Life Project.
Pew research specialist Mary Madden told the E-Commerce Times that its data shows that music downloading dropped radically after the last rash of RIAA lawsuits but has since rebounded, albeit not to its peak levels. Thirty-three percent of former music downloaders said they stopped because of the RIAA lawsuits.
"The biggest impact of the record industry lawsuits seems to be among the group of Internet users who have never downloaded music online," Madden said. "Sixty percent of that group said that the lawsuits would keep them from downloading music files in the future. Of course, those who don't understand what's involved are not likely the ones who are going to illegally swap files and work to avoid to getting caught."