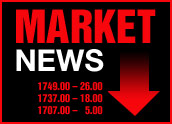 A weak report on retail sales — the latest and in some ways the most direct evidence that high oil prices are dampening economic growth — helped drive stocks lower on Wall Street today, with the best news of the day coming after markets closed in the form of strong earnings from Apple.
The Commerce Department said retail sales rose a 0.3 percent in March, well below expectations, and said that with auto sales taken out, the real growth was 0.1 percent, the weakest month in almost a year.
Oil Prices
That drove stocks sharply lower, with the Dow Jones industrial average giving up 104.04 points, or 0.99 percent, to 10,403.93. The Nasdaq lost 31.03 points, or 1.55 percent, to finish at 1,974.37, and the S&P 500 index surrendered 13.97 points, or 1.18 percent, to close at 1,173.79.
Though oil prices are a long-term concern for investors, there was some potentially good news today that helped drive crude prices lower.
The International Energy Agency said demand growth would slow this year. That, plus another report from the U.S. Department of Energy showing a larger-than-expected increase in fuel stockpiles, helped push oil futures lower by US$1.64 to $50.22 per barrel.
AMD Losses
The first round of earnings reports and forecast updates was also on investors' radar. After the markets closed, Apple continued to impress investors, saying revenue rose 70 percent while profit grew by some 600 percent to $290 million in its second quarter on the continued strength of the iPod — with some 5.3 million sold in the quarter — as well as higher sales of PowerBook and desktop computers.
Things were less rosy at Advanced MicroDevices (AMD). The chipmaker said sales decreased 1 percent in the first quarter and lost $15 million, compared to profit of $45 million a year ago. Separately, AMD said it would spin off its Spansion flash memory unit in an IPO worth as much as $600 million.
Earlier results were also mixed. On the upside, McDonald's stock gained nearly 2 percent after saying it would exceed first-quarter profit targets. However, Harley-Davidson was down sharply, off as much as 17 percent after missing targets for the first quarter and cutting both its shipment and profit forecasts for the year.