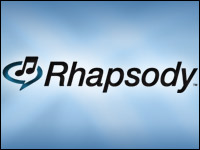 The expected spinoff of subscription music service Rhapsody from parent company RealNetworks has arrived, and it could be a good thing for both parent and child.
The formal decoupling, announced in February, was completed March 31 but announced in a regulatory filing released on Tuesday.
Real, which acquired Listen.com and its Rhapsody service in 2003, still owns about 47 percent of the now privately held Rhapsody's stock. Viacom owns a similar share. Private stockholders own the remainder, according to RealNetworks' filing with the Securities and Exchange Commission.
Rhapsody celebrated the divorce by cutting the price of its all-you-can-eat music subscription by nearly a third, to US$10 a month from the previous $14.99. The company also sells individual downloads and has recently launched player apps for the phone and Android operating systems.
Tricky Timing
The break-up comes at a simultaneously perilous and opportune moment for Rhapsody.
The company is the leader in the subscription space, but according to the NPD Group, only 3 percent of Internet users subscribe to such services. Some 19 percent download from services such as iTunes, while 40 percent just use YouTube and other video services as their music players. Also, services like Pandora, which provides customers free streaming channels built around favored artists, have become a popular alternative.
On the other hand, Rhapsody's upcoming ability to better serve iPhone customers with cached music playlists via its new iPhone app could be an important asset for the company, helping it better compete with Apple's iTunes music store, said Pietro Macchiarella, a research analyst with Parks Associates.
"The fact that you can now access your subscriptions in a dynamic way makes these music distribution models more attractive," Macchiarella told the E-Commerce Times. "The question is if they will make any money. So far, the transactional model, such as iTunes', is the only one that is bringing profits."
Rhapsody has been losing customers — perhaps as much as 18 percent of its subscriber base — since the beginning of 2009, and Real posted $10 million in losses for its music business, including Rhapsody, last year, said Macchiarella.
Rhapsody had been somewhat lost in the larger Real family, he said, so the time was right for the two companies to part ways.
Good for Both Sides
"Sometimes being part of a big diversified company does not help," observed Macchiarella. "By being a startup once again, Rhapsody has a chance to concentrate on its core business and to adapt more quickly to the evolving landscape of digital music."
With an $18 million cash infusion from Real and a commitment from Viacom for $33 million in advertising, Rhapsody has the resources to survive on its own for the time being, at least, Macchiarella noted.
The company starts with what Macchiarella estimates to be about $80 million in annual revenue and excellent brand recognition.
"They also have a very good music library, agreements with the major labels, and a good distribution platform," he said. "Not bad for a startup."
One strategy Rhapsody might pursue is an agreement with Google to become the leading music provider on phones running the company's Android mobile operating system.
"If Rhapsody can take a leading role on Android devices …," Macchiarella said, "it might increase its chances of success and long-term survival."