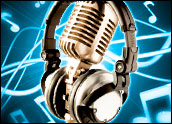 Google's new music search service, announced Wednesday, is in tune with that company's overall goal to make every last bit of information searchable on the Web. After all, "two of our top 10 queries of all time are music-related," according to an introductory video on Google's Discover Music landing page.
However, for online streaming music service Lala, the chance to join in Google's effort is the equivalent of getting two thumbs up from "American Idol's" Simon Cowell.
"We're thrilled to be a part of it, obviously," Lala CEO Geoff Ralston told the E-Commerce Times. "It validates the business model we've put out there, which is music in the cloud and being able to access it from anywhere — but even more so the consumption and collection and ownership-based model, which is what Lala is all about."
The Palo Alto-based company is one of nine music-related companies that stand to benefit the most in financial terms from the new service. Lala, Imeem, MySpace, Pandora, Rhapsody, EMI, Universal, Sony and Warner will provide the actual music — either by letting users listen to one full song for free (and 30-second snippets after that) or by allowing them to purchase the entire song. Google is simply providing music-enhanced search results.
"This is a music search feature. Google is not hosting or serving any of the music here," Google spokesperson Jennie Johnson told the E-Commerce times. "Rather, we are making it easier for users to find and discover the music they are looking for directly from our third-party licensed music service partners. This means users can easily find music, while artists, labels, song writers and music publishers can all earn royalties and sales revenue when users discover music through Google. "
How It Works
Google's Discover Music landing page offers up a handy way to find out exactly what the company is offering with the service (called "OneBox" internally, Johnson said.) Lady Gaga is suggested as an example in the search box. Click "search for music" and you get four three-minute-plus song links at the top of the results page, a link to "more songs from Lady Gaga" on Lala, and links to "listen on" iLike, iMeem, Pandora and Rhapsody for more of the electronica-disco diva's songs. (MySpace bought iLike earlier this year.)
Under that, you see the usual results you would find before OneBox's launch — images, two YouTube videos, links to her official Web site and her MySpace and Wikipedia pages.
"Every day, millions of people turn to Google for answers to their music-related queries. We want to connect people to the information they're looking for, whether it's in the form of a video, an image, a magazine — or a song. And starting today, people will be able to search and more easily discover millions of songs via a simple Google Web search," Johnson said.
One way Google is doing that is by recognizing that for many people, all they need is a few words from a song to find out whether or not they'll want to buy the entire tune. "We're starting to answer questions like this by allowing you to type in a line or two from the lyrics — whatever lyrics you can remember from the song — and directing you to the song just as if you knew the name or artist," Johnson explained.
Boosting Business – With a Bullet
The Google partnership doesn't just give Lala a potentially huge audience boost and a validation of its business model, Ralston stated. It also validates his engineering team. "We blew the doors off their load testing. They tried to break us, and they really couldn't," Ralston said with a laugh. "We proved we could handle everything they threw at us and a lot more."
Lala recently announced a music gifting program for Facebook members. It also submitted an app to Apple's iTunes App Store and is awaiting approval. It's all part of the realization that music is entering another phase of consumption and commerce, Ralston said. "The world of organizing thousands of files on a dozen devices is over, it's ending. The era of the MP3 is ending. The era of even knowing what this arcane MP3 format is and wondering at what bit rate does it stream at is ending, and this is part of that. There's an evolutionary change in how music is consumed, discovered, listened to and delivered on the net," Ralston said.
One song that has remained the same, despite the best efforts of music pirates: Most of the individuals and companies involved with music still want to get paid. Lala is an ad-free music store, allowing users to store their collections in Lala's cloud and buy music from content partners. Google, on the other hand, simply wants to widen its search net and results so that the contextual ads that appear on the side of the Lady Gaga results page — or the page of any other artist — have more chances for click-on success.
"The benefits for us are that when search is better, Google does better," Johnson said. "If people can find exactly what they're looking for through our search engine, then they're likely come back to do more searches and click on more ads."