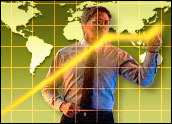 There will be half a billion personal computers sold to U.S. consumers between now and 2015, according to Forrester Research, which includes desktops, notebooks and laptops, tablets and netbooks in the PC category.
That is a big jump from current levels — a 52 percent increase — Forrester noted in its newly released five-year projection for the market, "The US Consumer PC Market In 2015."
A small but significant part of the expected growth will be from tablet sales, the firm said, predicting that U.S. tablet sales will go from a modest 3.5 million units in 2010 to 20.4 million units in 2015 — a 42 percent compound annual growth rate.
Furthermore, starting in 2012, there will be indications that tablets are impinging on netbook sales. By that point, tablets will start to outsell netbooks, Forrester predicted. By 2014, more consumers will use tablets than netbooks, and by 2015, tablets will constitute 23 percent of PC unit sales.
Forrester did not return a call to the E-Commerce Times in time for publication.
Growing Debate
Consider this the latest — but not likely the last — data point on how and when tablet growth will start to eat into netbook marketshare. Ever since Steve Jobs announced Apple would introduce the iPad, there has been much speculation about where it would fit in the PC ecosystem, with the assumption that netbooks would be the likely category to take a hit.
As of last month, the iPad was already starting to make inroads into this market, said Morgan Stanley analyst Katy Huberty, who said in a client note that netbooks posted just a 5 percent year-over-year sales increase in April, compared with a 600 percent jump in July 2009 and a 800 percent jump in March 2009, citing data from Morgan Stanley and NPD.
The iPad, said Huberty, was the main reason for the decline in growth.
However, it might be that netbooks are merely entering a more mature phase of their cycle and will be complementary to the up-and-coming tablet devices. This school of thought is exemplified by recent figures from IDC, which project that tablet-style computing devices will gain at a compound annual rate of 57.4 percent between now and 2014 — an increase from 7.6 million units in 2010 to more than 46 million four years from now.
This growth won't come at the expense of other categories such as netbooks or smartphone devices, however, IDC concluded.
Too Soon to Call
The tablet market is too young to make definitive judgments about which other category it may replace, Steven Baker, VP of industry analysis at NPD Group, told the E-Commerce Times. "We don't even know who all the players will be. We also need to go through a few selling cycles. Selling personal computers — tablets or netbooks — in April is vastly different from selling them in August or December."
More than likely, the netbook category will lose some sales — but it is possible it will not. "We just don't know what will be out there in a few years," Baker emphasized. "There could be new form factors and entirely new products. It is premature to start anointing winners and losers in a market that has just taken its first baby steps."
Multiple Products
It is also a mistake to assume consumers will own one but not the other, Laura DiDio, principal with ITIC, told the E-Commerce Times.
"Look, consumers own multiple cellphones and television sets," she pointed out. "Why not a netbook and a tablet, especially if they are low-price?"
The lowest-priced iPad costs less than US$500, and prices will drop even lower, predicted DiDio. "People will own several computers because they can."
The consumer market has not shown the same penury as the corporate market has — at least in terms of its computer purchases, DiDio noted. "Companies are keeping their desktops and notebooks until they are obsolete — not so with consumers."