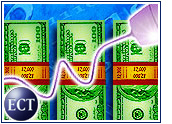 As competition heated up during the summer, both the travel and computer hardware sectors saw an uptick in online sales, according to comScore Networks, which has purchased Web traffic measurement firm Media Metrix.
Overall, online consumer sales increased to US$6 billion, a 26 percent increase from July 2001. Travel services performed even better, with a 32 percent gain in online sales in July, to $2.9 billion.
"E-commerce has continued to grow in double-digit gains throughout the year," comScore vice president Dan Hess told the E-Commerce Times. "We may be seeing the early signs of stability or even a pickup in the near future [of consumer willingness to spend]."
Cracking the Rankings
The 50 sites ranked by comScore in terms of traffic included Dell.com, which saw its traffic grow 34 percent between June and July to 9.2 million unique visitors.
Hess noted that Dell has always been "at the top of the heap" in terms of sales but has "never been in the top tier" of Web traffic rankings. He said the surge in traffic might translate into increasing sales for the company, which has proven exceptionally effective at converting visitors to buyers.
Traffic on the Rise
As might be expected, airline-backed Orbitz did well in the travel sector, marching into 40th place in the rankings. The site logged 10.3 million visitors, a 19 percent gain over the numbers recorded in June.
Online travel companies are highly successful these days, in part because they provide instant gratification, according to Andrew Bartels, an analyst at Giga Information Group.
Internet service providers held the top Web traffic rankings, followed by well-knowne-tailers. AOL Time Warner ranked first in July's Top 50 with nearly 98 million visitors to its network of sites, followed by MSN-Microsoft sites with 89.8 million visitors and Yahoo! with just over 83 million.
EBay arrived at number seven with more than 33 million visitors, and Amazon.com took eighth place with 27.7 million.
Show Me the Money
Other big winners included financial information and advice sites. Spurred by financial unrest and low investor confidence, traffic to financial Web sites grew 19 percent to 23.2 million unique visitors in July.
Because mortgage rates have dropped so low, comScore noted there was significantly higher traffic to real estate sites. Traffic to such sites grew 15 percent to 23 million visitors in July, making the sector the fastest-growing e-commerce niche. Only three of the 25 real estate sites logging 200,000 or more visitors actually saw traffic decline, while traffic to the other 22 increased by between 5 and 158 percent.
For example, BankRate.com saw its traffic grow 40 percent from June to 3.1 million visitors. And AtlasCreditGroup.com and MortgageExpo.com both benefitted from the renewed interest in financial sites, logging 523,000 and 1.2 million visitors, respectively. For MortgageExpo.com, that figure represented a 23 percent increase compared with June. LendingTree.com was up 11 percent to 1.2 million in the same period.
And Remax.com grew a whopping 83 percent over June figures to 750,000 visitors.
Inspiration Seekers
It seems that Web surfers were looking for inspiration in July as well.
An impressive 624,000 people made their way to BillPorter.com, a site created as a tribute to a door-to-door salesman who has cerebral palsy. His plight was recently featured in a made-for-TV movie that aired on TNT in July.
And nostalgia play Classmates.com came in at number 9 in the rankings, with just over 24 million visitors.