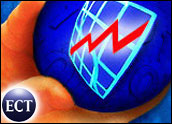 Adding more figures to what has become a blur of holiday projections and pronouncements, a preliminary report released Monday by the Boston Consulting Group (BCG) and Shop.org shows that online revenues for the 2000 holiday season were up 76 percent over the previous year.
Revenues did not rise as dramatically as the 300 percent increasebetween 1998 and 1999, according to the report. However, the average order size did increase by 27 percent between 1999 and 2000, as opposed to an 8 percent increase between 1998 and 1999.
"This increase in order size shows the growing trust consumers have in the online channel," said Elaine Rubin, chairman of Silver Springs, Maryland-based Shop.org, a trade association that focuses principally on online retail and marketing.
The Shop.org and BCG study did not calculate total revenues for online holiday shopping for the preliminary report, but instead surveyed 35 leading online retailers to determine how 2000 holiday sales compared to the previous year. BCG said that the companies plan to release a more comprehensive report in coming months.
Lower Acquisition Costs
Higher average spending, as well as increased revenue from repeat buyers, is helping e-tailers recover their customer acquisition costs and move toward profitability more quickly, according to the survey.
E-tailers have been working hard to lower customer acquisition costs. Earlier research by Shop.org and BCG showed that customer acquisition costs dropped from US$71 per customer during the fourth quarter of 1999 to $45 in the first quarter of 2000, $40 in the second quarter and $20 in the third quarter.
The lowered cost of customer acquisition corresponds to a decrease in offline ad spending. In 1999, e-tailers spent 62 percent of their marketing budget on offline media campaigns, including magazine ads and television commercials, according to Shop.org and BCG.
During 2000, the portion of the advertising budget spent offline declined steadily, dropping to 51 percent in the first quarter, 41 percent in the second quarter and 36 percent in the third quarter.
Comeback Shoppers
BCG consultant Julie Breen told the E-Commerce Times that it is possible that customer acquisition costs went up "slightly" in the fourth quarter because of increased holiday promotions, but she stressed that even if e-tailers spent more on holiday advertising overall, it is possible that the cost to acquire each customer could have stayed the same or even dropped because of an increased number of customers.
The news that more revenue is coming from repeat buyers is positive, according to Breen, because it means that e-tailers are beginning to realize the "fruits of their labor" in the form of increased customer loyalty.
Hybrids Strong
Among the online winners this holiday season were traditional retailers that took it to the Net to attract both new and old customers.
"Traditional retailers came on strong this holiday season," BCG director of e-commerce research James Vogtle said. "Many have used their offline assets and know-how — such as brand, product selection, vendor relationships and marketing expertise — to create compelling online stores.
Vogtle added, "This made them extremely well positioned to attract many of the 49 million consumers who were shopping for gifts online — many of which were already customers of their brick-and-mortar operations."
Dovetailing Reports
Two recent surveys support Vogtle's theory that brick-and-clicks had a banner season. Last week, Nielsen//NetRatings reported that 11 of the top 15 online brands were brick-and-click retailers, including such sites as JCPenney.com, BestBuy.com and Target.com.
For its part, the latest Media Metrix numbers show that six of the top 10 gaining retail sites for the holiday shopping season were traditional offline brands: Walmart.com, BestBuy.com, AmericanGreetings.com, Staples.com, Hallmark.com and Sears.com.