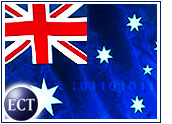 A report released Wednesday by consulting firm Ernst & Young predicts that Australian e-commerce will grow from US$3.1 billion in 2000 to $39 billion in 2004. The number of e-shoppers is also set to explode, growing from 2.2 million in 2000 to 5.84 million in 2004.
The report, which was based in part on data from IDC, found that the average Australian e-shopper spent $831 online last year and that 17 percent of e-shoppers reported spending $1,053 or more last year. Twenty-four percent of online buyers said they had made 10 or more separate purchases.
"It is clear Australians are becoming more comfortable with the idea of shopping online — they're spending more and buying more adventurously," said Ernst & Young partner Steve Ferguson.
Brick-and-Clicks Rule
Australian e-tailing is dominated by the traditional retailers who have entered the e-commerce realm. Currently, 50 percent of online stores in Australia are the e-tailing arms of traditional retailers. The next 35 percent of Australian e-commerce sites are online-only merchants, while the remaining 15 percent are wholesalers who use the Internet to sell directly to customers.
Among traditional retailers that have taken their business online, 50 percent said that they did so primarily to increase sales, and only 3 percent said they went online to stay competitive. Ernst & Young said that the lack of emphasis on competitiveness could signal a lack of strategic thinking on the part of Australian e-tailers.
"Consumers are seeking an online option and it has become a competitive necessity. The growth and potential of online shopping means traditional retailers should no longer view e-commerce as an option, but as a business requirement," said Ernst & Young partner for e-commerce Mark Runnalls. "While still in the early stages of development, online retailing looks set to play a considerable part in the present and future of retailing."
Taking Advantage
Business-to-business (B2B) channels are the "richest vein of e-commerce opportunity," according to Ernst & Young.
However, despite the benefits offered by B2B e-commerce, including cost savings and increased efficiencies, 70 percent of the online businesses surveyed have not integrated B2B capabilities into their internal operations.
"Many of the expected benefits from B2B integration are yet to come to fruition," said Elizabeth Rudd, an Ernst & Young B2B specialist. "This gives Australian e-tailers a window of opportunity to better integrate their own systems to take full advantage of B2B when it does arrive."
Despite the lack of B2B integration among e-tailers, online B2B spending is set to grow from 64 percent (or $2 billion) of total e-commerce spending in 2000 to 72 percent (or $28.2 billion) by 2004.
Anybody Listening?
Ernst & Young also found that e-tailers are doing a poor job of listening to their customers. According to the survey, 39 percent of e-tailers do not use any information gathered from consumers — such as purchasing history and feedback on Web site effectiveness — to improve the customer experience.
The study also found that only 10 percent of e-tailers use information gathered to customize user experiences, while just 14 percent said they used information gathered to personalize product offerings.
"One of the key factors for success in any form of retailing is listening to the voice of the consumer. Our research shows that many Australian online retailers are not meeting consumer demands, and it is clear that purchasing dynamics will substantially affect sales results," said Ferguson.
Stop Signs
The No. 1 factor keeping Australian shoppers from buying online was the lack of choice as to the size or "fit" of the products being offered, which was cited by 48 percent of respondents.
Other major turn-offs included high shipping costs, cited by 40 percent of respondents, and overall security, which was cited by 36 percent of the shoppers.
In addition, for 28 percent of the Australian e-shoppers, the inability to see an item before purchasing it was a negative aspect of the e-tail experience.
Dividing Lines
Twenty-two percent of Web shoppers said that the high costs of items online was a factor for not buying online.
Even though shoppers expect to find lower prices online, only 18 percent of brick-and-click merchants in Australia offer any type of savings to online customers, Ernst & Young found. The firm also found that 80 percent of the merchants said that their online prices were higher than their offline prices.