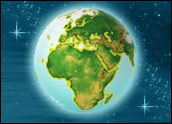 Software developer Quark has made moves recently to improve its customer relations and to increase its focus on the European market.
"From the inside out, we're reassessing the way we do business and the quality and effectiveness of the solutions we develop to help our customers," Quark CEO Kamar Aulakh said.
"As CEO, my biggest challenge has been to implement core changes that transform the way we do business so that we are closer to our customers. We have made fundamental changes to improve our company and our solutions, and we're only going to get better," Aulakh explained.
Since taking the reins as CEO in January, Aulakh has pushed a series of actions to improve customer relations, such as changing policies and pricing, hooking up with new partners and putting more company resources into customer outreach.
Part of that customer service push has been aimed at the European market in a bid to improve sales there.
Customer Service
"We are committed to providing our customers and partners with the service and support they expect," said Axel Paesike, Quark's newly appointed director of sales for Europe.
Quark has ramped up its service, support, marketing and development staffs, tripled its field sales staff around the globe, reopened its office near Stuttgart, and opened new offices in Hamburg and New York. The company is opening two new European offices this month in Paris and London.
To build a stronger foundation, Aulakh and vice president of operations Monique Wirz-Grutter are based out of Quark's European headquarters in Neuchtel, Switzerland, and a third member of Quark`s executive staff, senior vice president of product development Jurgen Kurz, is based in Hamburg. Quark is headquartered in Denver, Colorado.
In addition, Rejane Bouffaut has taken over as Quark's new director of public relations for Europe. Bouffaut comes to Quark from Apple, where she was responsible for European public relations.
Based on customer feedback, Quark recently revised its software-licensing policy for single-user licenses of QuarkXPress. Under the new policy, QuarkXPress 6 users can install and activate their software on a second computer at no additional charge. Activation on a second computer is simple and quick.
At the same time, Quark`s efforts to strengthen relationships with authorized educational resellers such as Computers Unlimited paved the way for the company to offer special QuarkXPress pricing for educators and students.
Expanded Alliance
In addition, accredited schools with course offerings that require QuarkXPress are eligible for special pricing on Lab-Pak configuration of 10 or more users for use by the school.
Meanwhile, the company has restructured and expanded its QuarkAlliance program in an effort to create new opportunities for Quark and its network of developers, output providers and trainers to provide products and services to Quark customers.
QuarkAlliance members are invited to participate in co-marketing opportunities and have access to prerelease programs, product discounts and more. Membership in the program promotes visibility within the Quark community. The program also offers opportunities for QuarkXPress training and enterprise technology integration designed to enhance the usefulness of Quark software.
Quark is also working to increase its face-to-face contact with its customers.
European Presentations
In Europe, Quark`s event roster for 2004 includes Drupa, Ifra, Macworld Expos in Germany and the United Kingdom, and Apple Expo this week in Paris. In addition, Quark is planning road shows in major European cities and training sessions for developers and other partners.
Based on feedback from its customers, Quark has enhanced QuarkStore, the company's online shopping site. The goals of the redesign included helping shoppers locate, order and upgrade Quark products faster and easier.