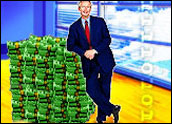 Qualcomm has repurchased and retired approximately 29 million shares of its stock during the last two months for approximately US$1.1 billion under its $3 billion stock repurchase program. Some $1.5 billion worth of shares remain authorized for repurchase in future periods, net of put options outstanding, under the stock repurchase program announced on May 22, 2007.
"We are pleased to have repurchased shares at what we believe is a significant discount to the long-term intrinsic value of the company's businesses," said Paul E. Jacobs, chief executive officer of Qualcomm. "Our continued business execution, strong balance sheet and positive cash flows enable us to return capital to stockholders while making substantial investments in new technologies and future growth opportunities."
Since fiscal 2003, Qualcomm has returned $6.3 billion of capital to stockholders — $4 billion through the repurchase of approximately 101 million shares of its common stock.
Markets React
The stock markets reacted favorably to the buyback. Qualcomm has been struggling after several adverse legal decisions in its patent disputes, and its share prices have reflected those woes: The stock fell 4 percent last month and was down 8.2 percent in August prior to today's trading session.
On the announcement, though, the company's shares rose 44 cents to $38.67 — an indication that investors were pleased with the company's willingness to buy back shares at lower prices, Fred Ruffy, analyst with the investor education firm Optionetics, told the E-Commerce Times.
"In addition, some investors might be reacting to the 'Plugged In' column in the latest issue of Barron's," he added. "In the article, Mark Ververka speculates that the company might be split in two to unlock some shareholder value."
Legal Woes
Qualcomm is still slogging its way through a mire of legal woes and resulting financial problems. In May, a federal jury found not only that Qualcomm's chips for cell phones violated three patents owned by Broadcom, but also that its infringement was willful — opening the door to a threefold increase in damages over the original $19.6 million awarded.
Earlier this month, a federal judge doubled the damages Qualcomm would have to pay to Broadcom to $39.3 million. That's not all — a possible injunction still hangs over Qualcomm's head. In documents filed with the federal court, the company noted that an injunction could cost it $2.4 billion over five years.
Qualcomm is also pushing to have an International Trade Commission ban on future imports of new phone models containing chips it designed overturned. The ITC also found that some of Qualcomm's chips and chipsets infringed on Broadcom's patented technology.