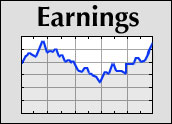 Qualcomm today projected it will realize higher earnings in the current quarter than previously expected, with revenues up 60 to 62 percent over the same time last year and up 4 to 5 percent for the quarter.
A notable part of the increase was attributed to the company expecting to produce more of its Code Division Multiple Access (CDMA) phones.
But in its statement of projected earnings, Qualcomm noted that is has been reviewing its accounting of royalties from licensees and that it might become necessary to change its accounting practices, and thus take a one-time reduction in the royalties revenue of $298 million, marked against fourth quarter earnings.
By midday, Qualcomm shares were down 1.85, or 4.58 percent, to 38.55.
"The 3G CDMA market continues to grow at a rapid pace," said Dr. Irwin Mark Jacobs, Qualcomm chairman and CEO.
He explained that "Data services and advanced features, including multiplayer games, positioning, photo messaging, music and video downloads, are proving very popular where offered, increasing average revenue per subscriber and driving phone upgrades."
Earnings Per Share Up
Jacobs said, "We expect continued strong cash flow from operations in the quarter, yielding a total cash and marketable securities balance at fiscal year end of approximately $7.6 billion."
The company now projects that fourth quarter earnings per share — excluding the Qualcomm Strategic Initiatives (QSI) segment — will be 28 to 30 cents, up from the previously announced 27 to 29 cents per share. It was 14 cents in the same quarter last year.
When the QSI segment is added in, Qualcomm is still projecting earnings per share for the quarter of 28 to 30 cents, but that compares to the previous estimate of 26 to 28 cents, including an estimated 1-cent loss per share attributable to the QSI segment.
Qualcomm noted that its financial guidance assumes shipments of 38 million to 39 million Mobile Station Modem phone chips during the quarter, more than the company's prior estimate of 36 million to 38 million units.
As such, the company, which develops and delivers digital wireless communications products and services based on its CDMA digital technology, said it now expects to be able to sell 2 million more of its CDMA phones.
Phone Sales Increase
It said it now is projecting sales of approximately 46 million CDMA phones during the quarter at an average selling price of about $210, compared to the prior estimate of 44 million phones and a $206 average selling price.
Qualcomm said it expects the CDMA phone market will be 170 million to 176 million units in calendar 2004, as compared to the prior estimate of 161 to 168 million units. The forecast of average selling prices for calendar 2004 remains at approximately $209.
The company said it now anticipates that both total revenues and revenues excluding the QSI segment will grow by approximately 33 to 34 percent year-over-year.
It said it is expecting total earnings per share of $1.08 to $1.09, including an estimated 1-cent loss per share due to the QSI segment for fiscal 2004. This compares to the prior estimate of $1.06 to $1.07 per share, including an estimated 2-cents loss per share due to the QSI segment.
Certain Income
Excluding the QSI segment, the company said it anticipates earnings per share of approximately $1.09 to $1.10 for fiscal 2004, compared to the previous estimate of $1.08 to $1.09 for the year and to 71 cents in fiscal 2003.
Qualcomm noted that due to their nature, certain income and expense items such as realized investment gains or losses and asset impairments cannot be accurately forecast. Accordingly, the company said it excludes such items from its business outlook, and actual results may vary materially from the business outlook if the company incurs any such income or expense items.