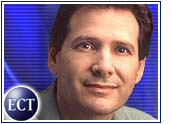 Priceline.com (Nasdaq: PCLN) climbedUS$1.16 to $6.01 in morning trading Tuesday, after Goldman Sachs upgraded thestock to market outperform from market perform, saying management hasstreamlined operations and positioned the company for a turnaround.
Priceline's first-quarter results, due out after the close of trading Tuesday,could mark the company's "last unprofitable quarter," wrote Goldman analystAnthony Noto in a research note.
The results, according to Noto, "shoulddemonstrate the worst is behind the company, and the stock should show solidappreciation."
Earlier this month, Priceline said it is "on track" to report first-quarter results at the high end of analyst forecasts for a lossof 5 to 7 cents per share before restructuring and other charges, and predicted a pro forma profit for the second quarter.
Noto said that goal is likely to be achieved. According to the analyst, Priceline "has successfully 'right-sized' its cost structure, and now better controls itsdestiny."
In addition, airline cost increases and economic conditions "are"most favorable for Priceline," Noto wrote.
Priceline, however, is a least a quarter behind its competitors, Travelocity(Nasdaq: TVLY) and Expedia (Nasdaq: EXPE), which both recently reported profits.
Though Priceline is still turning itself around, Noto wrote, the stock is agood value when the company is viewed as an online travel business ratherthan a diversified e-tailer.
"Priceline has a sustainable business in justtravel," wrote Noto. "The quarterly results should reinforce the company'sability to achieve profitability with continued modest growth and costcontrols."