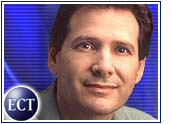 Priceline.com (Nasdaq: PCLN) announced late Monday that it is replacing president and chief executive officer Daniel Schulman.
The e-tailer said chairman Richard Braddock will retake the reins as CEO, a position he held from July 1998 to May 2000. Chief operating officer Jeffery H. Boyd will assume the role of president.
Priceline director N.J. Nicholas, Jr. said that Braddock "has been instrumental in building Priceline and has helped define and guide the company's strategic direction through its turnaround efforts."
The company said its board concluded that the reshuffling was in the best interest of Priceline and its shareholders, in view of the company's "future objectives."
Priceline's Comeback
Schulman's outster comes amid signs that Priceline is moving forward in its drive to reach profitability.
Last week, the Norwalk, Connecticut-based company reported a pro forma net loss for the first quarter 2001 of US$6.2 million, or 3 cents per share, beating analyst estimates for a loss of 5 to 7 cents per share.
Priceline said that it added 891,490 new customers during the first quarter and generated repeat business of 58 percent.
Priceline's restructuring efforts included the reduction of its staff from 538 employees in the fourth quarter of 2000 to 344 employees at the end of the first quarter 2001.
Last-Minute Deals
The company is also expanding its offerings. In a bid to appeal to spur-of-the-moment leisure travelers, Priceline began offering last-minute deals on hotel accommodations and airfare in March.
Braddock said the company remains "enthusiastic about the improvements in our business as our turnaround plan continues to unfold."
Braddock added: "Given the added visibility of our results to date in April and early May, we remain confident that we will accomplish our guidance for revenue and achieve pro forma operating profitability in the second quarter 2001."
Revolving Door
Schulman, who joined Priceline in 1999 after serving in a senior position at AT&T, is not the only high-profile executive to leave Priceline in recent months.
Heidi Miller, who left a top job at Citigroup to join Priceline, walked away from her role as Priceline's chief financial officer after six months in November 2000. Miller took a job in January at professional services firm Marsh & McLennan.
Priceline founder Jay S. Walker stepped down from his position as vice chairman of the board in December.
Executive Exodus
According to executive search firm Challenger, Gray & Christmas, dot-com companies claimed more executive departures than any other business sector last month.
Nearly one-fourth of the 134 chief executive and chief financial officers who left their jobs in April were leaving online companies, according to the firm.