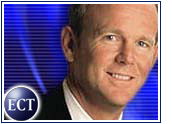 Dot-com chief executive officers are departing their companies at a rate of almost one per day, according to a report released Thursday by Challenger, Gray & Christmas.
The survey found that for the seventh month in a row, Internet executives led the overall CEO departure parade. During February, 119 chief executive departures were announced, with 24 — or 20 percent of the total — coming from the dot-com sector.
John A. Challenger, chief executive officer of the job placement firm, told the E-Commerce Times that no matter "what euphemisms were used to describe the departures," he believes that "almost all" of the dot-com executives who left their posts were forced out because their boards thought it was time for a change in management.
"Dot-coms may have a particularly difficult time finding solid leadership," Challenger said. "Many prospective chief executives may be steering clear of these types of operations simply because there is no telling if the company will even exist in six months."
Challenger added: "Six months at the helm of a sinking ship does nothing to improve one's reputation."
Unlucky Seven
February marked the seventh consecutive month that executive departures topped 100. The February 2001 total was up 37 percent from February 2000, when 87 CEO changes were recorded.
Since the Chicago-based company began tracking executive departures in August 1999, 1,613 CEOs have resigned or been forced out. More than 800 of those departures have come since August 2000, when departures began topping 100 per month.
The average tenure for departing CEOs was 5.4 years, according to an analysis conducted by the firm.
"Companies that are undergoing a leadership change face considerable risk," Challenger said. "It is still unclear as to where the economy is going, so instability at the top of the corporate ladder only adds another layer of uncertainty."
Among the departures in February was Buy.com CEO and chairman of the board Gregory Hawkins, who along with chief financial Mitch Hill resigned for unspecified reasons.
Founders Flounder
In addition to CEO departures, the past few months have seen the founders of several prominent e-commerce companies step down from leadership positions in the companies they built from the ground up.
Webvan founder Louis Borders stepped down from the online grocer's board of directors last month, while Priceline founder Jay Walker resigned from the beleaguered "name your price" e-tailer's board in December.
Money Walks
Challenger said that in many instances, dot-com founders relinquish day-to-day control when their companies seek capital from outside sources. Sometimes, these founders take positions on the board of directors as interim posts before departing companies for good.
These permanent departures often come because the company's new management doesn't want the "old guard there," Challenger said. He also pointed out that having a company founder on the board of directors can make it difficult because the "new person needs to have freedom to run the company."
Although some company founders are forced out, others choose to walk away, according to Challenger, because they have "too much money to put up with the hassles" involved in running a dot-com company.