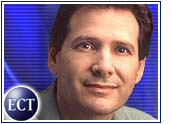 Priceline.com (Nasdaq: PCLN) picked up 69 U.S. cents to $3.22 in morning trading Monday, after reaffirming its financial targets for the first half of this year.
Priceline, the Norwalk, Connecticut, travel services e-tailer, said that results for the first quarter will probably come in at the "favorable end" of the forecast it gave in February for a first-quarter loss of 5 to 7 cents per share before restructuring charges, payroll taxes and other costs.
Revenue for the quarter ended March 31st is likely to be 15 to 20 percent above the fourth quarter's $228.2 million, Priceline said.
Priceline also repeated its goal of achieving a pro forma operating profit in the second quarter, with revenue rising 10 to 15 percent over first-quarter levels.
"We credit the recovery of our business momentum, in large part, to the numerous improvements we've made in our products and in our customer service," Priceline president and chief executive officer Daniel H. Schulman said.
For the fourth quarter ended December 31st, Priceline reported a loss before restructuring and other charges of $25 million, or 15 cents per share. The company, which gained prominence for its "name-your-own-price" shopping concept, posted a net loss for the period of $105 million, or 62 cents per share.
Priceline also recently scored investments totaling $50 million from companies controlled by Hong Kong's Li Ka-shing. Hutchison Whampoa and Cheung Kong Holdings said in February that they had bought about 24 million Priceline shares and agreed to buy 11.3 million more from company founder Jay Walker.
The deal gave the companies a 17.54 percent stake in Priceline, as well as a seat on the e-tailer's board.
Priceline said it plans to report first-quarter results after the close of trading on May 1st.