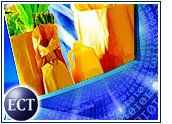 Albertsons.com, the online arm of grocery giantAlbertson's (NYSE: ABS), has announced that it will expand its Web-based grocery shopping service into the San Francisco area on March 20th.
The addition of 180 ZIP codes in five Bay Areacounties will give Albertsons.com the largestgeographic reach of any online grocery provider, withmore than 700 ZIP codes in California, Oregon andWashington.
"We're taking advantage of four years in the onlinegrocery sector to expand into regions that make themost sense for the service," said Mike Patton,president of Albertson's Northern California division.
"We are entering markets that have the highest number of customersusing the Internet and that have specifically askedfor this service."
As with its existing locales, Albertsons.com said it willoffer two fulfillment options for San Francisco-area shoppers:door-to-door delivery or in-store pickup.
Supporting Cast
Boise, Idaho-based Albertson's also said it will use its existingbrick-and-mortar store infrastructure — includingpricing and inventory systems — to buttress its onlineservice in Northern California.
This integrated launch and expansion campaign bodeswell for the online division's long-term survival,according to analysts.
"The economics of building a stand-alone Internetgrocer proved highly problematic," GartnerG2 researchdirector David Schehr told the E-Commerce Times,citing the July 2001 collapse of Internet-only grocerWebvan.
"[Grocers should] use the existing physicalinfrastructure of a supermarket and leverage theexisting cost base for additional revenue."
Personal "e-shoppers" will carry out online customers'orders at existing Albertson's stores, selectingfrom grocery, pharmacy and dry-goods items.
Food Feud
The new expansion announcement undoubtedly will fuelthe escalating online grocery battle on the U.S. WestCoast. The San Francisco development comes just sixdays after Albertson's tacked on 53 ZIPcodes in the greater Portland, Oregon/Vancouver area.
Meanwhile, in January, rival Safeway (NYSE: SWY)launched its GroceryWorks.com service in conjunction with UK-based Tesco in thePortland area. And Safeway already has announced itsintentions to go after the Bay Area market.
Online grocers serving regions on the East Coast,the Midwest and other areas in the United States include RoyalAhold-owned Peapod.com and MyWebGrocer.com.
"The [online grocery] concept is not inherently badif it is done the right way," Morningstar.com analystDavid Kathman told the E-Commerce Times. "It may bemore of a niche rather than a mass market, with a subsetof people who are affluent and busy enough to pay fordelivery."
Pay To Play
Albertsons.com customers must schedule a 90-minutewindow for delivery and must pay a US$9.95 service fee.Online shoppers who register for the service prior toMarch 18th will receive free delivery on their first order, according to the company.
For pickup at 99 physical locations in thefive-county region, customers will pay $4.95 perorder.
Albertsons.com originally launched in Seattle inNovember 1999. The company expanded its online serviceto 146 ZIP codes in San Diego County in October 2001and added about 400 ZIP codes in Southern Californiain February 2002.
Albertson's operates more than 2,400 retail stores in33 U.S. states, including 183 stores in its NorthernCalifornia division. The company said it realizes annual revenue of about $37 billion.