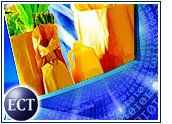 Grocery chain Albertson's (NYSE: ABS) on Monday said it will offer its online shopping service in Portland, Oregon, setting up a head-to-head battle with fellow brick-and-mortar grocer Safeway (NYSE: SWY), which began service there in mid-January.
The unlikely turf battle portends a larger war for dominance of home grocery shopping along the entire U.S. West Coast. Both chains have indicated they plan to expand further into California markets.
"For those customers who were used to Webvan and HomeGrocer, this is going to seem like the next best thing," David Schehr, research director at GartnerG2, told the E-Commerce Times.
The Albertson's expansion, which covers several neighborhoods in and around Portland, comes about a month after Safeway formally launched its GroceryWorks.com service in conjunction with UK-based Tesco in the same areas.
Next Wave
According to analysts, the looming battle for market share between the two grocery chains is a sign of the second wave of online grocery sales. With pure-plays Webvan, HomeGrocer, Streamline.com and HomeRuns now only a memory, chains that can use their brick-and-mortar stores to fill orders are beginning to jump into the void.
"There is a certain level of consumer readiness already built into this market," Schehr said. "We saw the first wave of Internet companies start at the coasts and move in, and we're seeing [it] again with this wave."
Shoppers in Portland have been among those most targeted by home grocery services. HomeGrocer got its start in Seattle, Washington, and moved into Portland a year later. Webvan later acquired HomeGrocer in a deal worth US$1.2 billion at the time.
Similar Deals
Customers may have a difficult time choosing which online service to use because both offer similar deals, at least in terms of cost.
Both companies charge $9.95 per order for delivery, and both have said online prices will match those in their brick-and-mortar stores. According to Safeway, its orders will be filled by "Personal Shoppers," while Albertson's has dubbed its order fillers "e-shoppers."
Albertson's also is offering customers the option of picking up completed orders at one of 31 area stores. That service will cost $4.95 per order.
"We predicted about six months ago that this hybrid model would start to take hold," Schehr said. He noted that many consumers prefer the convenience of having their packaged and dry goods delivered or picked off store shelves for them but want to pick out their own produce and meats.
"This gives them the best of both worlds," he added. "Now, instead of a 45-minute trip to the store, they can do it in 10 and still have the rest of their groceries either delivered or ready to be picked up."
More To Come
The Oregon expansion comes a month after Albertson's launched its home grocery service in Los Angeles. The company also serves San Diego, California, and its Web site says it will launch soon in the San Francisco, California, area.
Safeway serves Portland and Vancouver, Washington, with its home delivery option. The company recently launched in Sacramento, California, and has said it plans to service Bay Area cities as well.