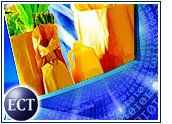 NetGrocer, an online food delivery service that focuses on shipping packaged goods, has struck a deal with supermarket chain Stop & Shop to test in-store kiosks for its Web service.
The kiosks, billed as the "endless aisle," will feature items not typically found on grocery store shelves, NetGrocer president and CEO Lisa Kent told the E-Commerce Times.
The program will begin with a 90-day pilot at stores near Stop & Shop's Quincy, Massachusetts, headquarters. The supermarket chain operates 320 stores in the northeastern United States.
At the same time, a NetGrocer link will begin appearing on the Stop & Shop Web site. If successful, the kiosks will be set up in other Stop & Shop stores and possibly in other chain stores owned by parent company Royal Ahold.
Special Delivery
The kiosks will help Stop & Shop answer customer requests for specialty products — requests that, if not met, often frustrate shoppers and send them to a competing store, according to Kent.
The NetGrocer site features more than 50,000 products, many of which cannot generate enough sales to win space on store shelves but are still sought by numerous customers, such as those on special diets.
For example, Kent said, the site carries Parmalat organic milk and some brands of Quaker cereal no longer available in stores.
Purchases will be shipped to a customer's home by FedEx and will arrive within a few days, Kent said.
Easy Street
"Right now, there is no easy way for a supermarket to fulfill a special request," Kent said.
According to Kent, when a special request is made at a brick-and-mortar grocery store, it usually takes a week or more for the request to be filled. Sometimes, she noted, the customer must buy a full case of the product, even if he or she does not want that much of it.
Kiosks offer a way around such problems, she said.
Familiar Company
The in-store kiosk program expands on an existing relationship between NetGrocer and Royal Ahold, which also owns online grocery firm Peapod.
Last year, North Brunswick, New Jersey-based NetGrocer took over for Peapod when it discontinued Peapod Packages, a nationwide grocery delivery service. to grocery chains, is now more than an online store.
The NetGrocer site, which first appeared in 1996, will continue to operate as an e-commerce store, Kent said.
Danger Zone
Few e-commerce sectors have undergone as much change and upheaval as the online grocery space.
Such companies as Webvan, Streamline.com and HomeRuns.com have folded, while Peapod and others have abandoned national expansion programs. But despite the struggles of these onetime sector heavyweights, new companies are entering the e-commerce grocery fray.
Safeway (NYSE: SWY), for instance, recently launched an online grocery service in conjunction with Tesco, which has had success with its online shopping model in the United Kingdom.