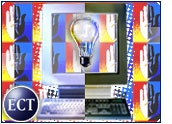 Internet consultant Organic (Nasdaq: OGNC) has joined the growing list of former dot-com high fliers facing a Nasdaq delisting.
Late Tuesday, the San Francisco, California-based company said it is seekinga hearing from a Nasdaq panel to avoid delisting. Organic shares have not traded at the Nasdaq's minimum bid price requirement of US$1 per share since February.
If the shares are delisted, they could trade over the OTC Bulletin Board orthe Nasdaq SmallCap Market, but securities traded on those are much lessliquid, and a delisting usually makes it harder for a company to find financing.
Some companies avoid delisting, at least temporarily, through reverse stocksplits that lift the value of their shares. Beyond.com (Nasdaq: BYND), Webvan (Nasdaq: WBVN) and Egghead (Nasdaq: EGGS) have all managed to retaintheir Nasdaq listing through reverse splits.
By the Books
Organic first warned of a slowdown inbusiness in September, when it said it would not reach its originalgoal of attaining a profit in the third quarter of 2000. Instead, thecompany reported a wider loss, and has yet to regain its footing.
Organic has since said it aims to breakeven by the third quarter of this year.
In April, the company reported a loss for the first quarter ended March 31stof $20.19 million, or 23 cents per share, before charges, compared with aloss of $6.83 million, or 9 cents, in the same period a year earlier.Revenue fell to $14.33 million from $29.21 million.
Spending Cuts
Chief executive officer Mark Kingdon said at the time that the resultsreflected the "difficult market conditions" faced by Internet consultants, asclients "look for ways to manage their own spending levels."
Organic and other dot-com consultants are facing pressure because companies have cut back on spending for new technology, with many opting to bring theirtechnology-management operations in house through acquisitions of Internet consultingcompanies.
For example, IBM recently (NYSE: IBM) bought Internet consultantMainspring, while Compaq (NYSE: CPQ) in April announced plans to buy Proxicom, another consultant.
Job Cuts, Lawsuits
Organic has also been cutting jobs in recent months, eliminating about 300positions in March as part of a plan aimed at cutting costs by some $50million.
Organic shares opened Thursday at 36 cents. A year ago, they traded at closeto $15. As a result of the decline, Organic — again, like many formerdot-com darlings — is also facing lawsuits from shareholders who claim that executives misled them about the company's prospects.
Organic, with offices in North and Latin America, Asia and Europe, providesservices including online media buying and management, inventory and supplymanagement, customer relationship management and Internet design andmarketing. Company clients include DaimlerChrysler, Target and BritishTelecommunications.