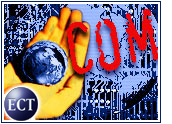 E-commerce service provider Beyond.com(Nasdaq: BYND) announced Wednesday that it will now be known simply as Beyond, after shareholders approved the name shortening as part of a plan to shift away from e-tailing.
The name change, said president and chief executive officerRon Smith, reflects the change in Beyond's core business.
Shareholders at the company's annual meeting Tuesday also approved areverse stock split and the possible sale of a stake of 20 percent or moreto Investwell Investments, Beyond announced after the close of trading.
In its bid to turn a profit, Beyond is concentrating on its e-commerce management and services business. The company started life as an online seller of software, but then reorganized to operate online stores for others.
Beyond's Target
Beyond said it plans to focus on operating e-stores for a limited number of high-volume manufacturers, software developers and systems manufacturers.
Citing the "difficult economic environment," however, Smith said that sales have "not ramped as much as we would have liked."
Even so, the CEO said, new, expanded agreements to operate online stores for McAfee and Borland, alongwith a soon-to-be-announced deal for 13 international stores, will make up "a significant part of the foundation of e-store revenue needed to achieve profitability."
Beyond the Books?
Beyond has cut expenses by more than 60 percent over the last four quarters,Smith said.
For the first quarter ended March 31st, Beyond reported revenue of US$12.7million, up 66 percent from a year earlier. The company posted a loss beforeinterest, taxes, depreciation and other items of $5.7 million, or 12 centsper share, compared with a year-earlier loss of $19.0 million, or 51 cents.
Beyond, which reported first-quarter results on April 26th, is projecting aprofit — before interest, taxes, depreciation and amortization — in thefirst quarter of 2002.
Beyond's Split
The reverse stock split, with a ratio of one to three to one to 15, will be at thediscretion of the company's board. The split would bring the company's stockprice above the Nasdaq's required $1 minimum.
Beyond, like others in the e-commerce industry, has seen its stock slide inrecent months. Shares of Beyond closed Thursday at 25 cents, up from a 52-weeklow of 13 cents, but well below the $30 level they reached in 2000.
Being Listed
Beyond has twice faced a possible delisting from the Nasdaq.
On May 16th, Beyond said that Nasdaq would continue to list its stock while the e-tailer put its restructuring plan in place, provided that the stockprice hit the $1 level by July 3rd.
In September 2000, Beyond escaped delisting when a debt exchange offer lifted its net worth above the $4million Nasdaq minimum.