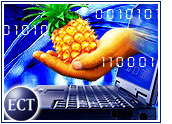 Shareholders at the annual meeting for urban delivery e-tailer Webvan (Nasdaq: WBVN) approved a reverse stock split Friday, in an attempt to get the value of company shares over the US$1 minimum required by the Nasdaq.
Webvan said it received a letter from the Nasdaq Listing Panel requiring that Webvan implement the approved exchange, of one share for 25 shares, by July 23rd.
Shares of Webvan closed Friday at 8 cents, down a penny.
It has been six months since Webvan received a letter from Nasdaq warning the company of a possible delisting. Webvan stock has not reached the $1 mark since last November and has not even broken 25 cents since April.
Hurdles Remain
Morningstar.com analyst David Kathman said there have been many cases where companies have done a reverse split to get share prices back over $1 per share in order to avoid delisting, only to see their shares quickly fall back to under $1 again.
"I'm not confident Nasdaq will let them use the split to stay on," Kathman said. "Even if Nasdaq says okay to the new price, the stock is still on pretty shaky ground. Companies only do this if they are in desperate straits — a reverse stock split doesn't change the fundamentals that really need to be addressed."
Checking Out?
Kathman said that Webvan remains on uncertain ground because the company still is not bringing in enough customers to justify its massive amount of capital spending, given its business model.
Earlier in June, Webvan's stock listing was dropped by the Russell 3000 stock index when the index conducted a reorganization that automatically removed stocks trading below $1.
Webvan made it known in April that it needed to raise $25 million to continue operations past the end of this year.
"It won't be easy for them to get it," Kathman said. "They've talked about what they're trying to do to get people to buy more, such as online coupons, but from what I can see it hasn't been working all that well."
Heavy Losses
In April, Webvan reported a loss of $86 million, or 18 cents per share, for the first quarter of 2001, compared with a loss of $75 million, or 17 cents, a year earlier.
At that time, the company also announced the closure of its Atlanta, Georgia operations and the elimination of 885 jobs. Since then, Webvan has been selling off assets originally meant for a West Coast expansion.
Webvan also received a great deal of flak recently for an agreement with former chief executive officer George T. Shaheen that pays Shaheen $375,000 per year for the rest of his life. The agreement is part of a supplemental retirement package that was negotiated before Shaheen began his employment with the company.