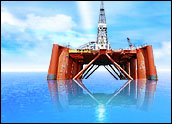 Oil prices continued to slide well below recent record levels Tuesday, but once again the stock market seemed to shrug in reaction.
Crude futures fell for the third straight day.
After flirting with the US$50 per barrel level on Friday, oil closed Tuesday at $45.25 and dipped to its lowest levels in 10 months during the trading session.
The ability of Iraqi oil to flow freely again in recent days was cited as the catalyst for the price plunge.
But while rising oil price hikes had been blamed by some for keeping the stock markets in check recently, the drop did not ignite a sustainable rally.
The Dow did manage to gain 25.58 points to close at 10,098.63. But the Nasdaq traded down most of the day and closed off 1.81 points at 1,836.89. The S&P 500 closed up less than a point at 1,096.19.
The semiconductor sector was seen weighing on tech stocks after an analyst call on Broadcom prompted a 7 percent drop in that stock.
Other techs took it on the chin, including Cisco Systems, which dropped more than a percentage point after analysts began to digest the details of a stock option plan it filed with regulators on Monday.
Even new Wall Street darling Google couldnt escape the tech fallout as shares fell from their previous close of $109.40. The stock lost 4.5 percent on Tuesday, closing at 104.87.
Google was called out for its lack of sound corporate governance policies by an investor watchdog group that said it was in the lowest 2 percent of all public companies in that area.