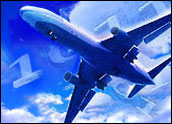 Sabre Holding Corporation (NYSE: TSG) rolled out a point-of-sale Web portal for travel agencies Tuesday that integrates Sabre's database of travel services with Internet content.
The new product, eVoya Webtop, will make it easier for traditional travel agents who use the Sabre reservation system to "compete and win in the e-commerce world," Sabre said.
Sabre, whose reservation system is one of the first travel booking systems created, also holds a 70 percent stake in online travel site Travelocity.
"The most important aspect of eVoya Webtop is that it lets agencies focus on customer service rather than the mechanics of shopping and booking travel, said Eric J. Speck, group president of travel marketing at Sabre.
Standard Fare
In addition to a streamlined Web-based interface, the new product lowers the connectivity costs for travel agents by allowing them to connect through a standard Internet connection, Sabre said.
According to the company, eVoya Webtop also offers online training, as well as customized desktops for each travel agent.
In addition, Sabre said that eVoya Webtop helps travel agents offer specialty bookings and book cruises. Sabre said it developed eVoya Webtop after receiving feedback from more than 1,000 travel professionals and users.
Top Gun
By offering traditional travel agents access to a Web-based booking platform, Sabre is giving traditional travel agencies another avenue in which to compete with online travel Web sites that have been luring consumers away, via online booking and the convenience of 24-hour access.
The offline travel industry has felt particularly threatened by Orbitz, an online travel site backed by 30 airlines. The site drew fire from the American Society of Travel Agents (ATSA) before it even had a name.
In a complaint filed with the U.S. Department of Justice (DOJ) in February 2000, the ATSA said that the new discount travel company posed an unfair competitive threat to online and offline travel companies.
Orbitz, which was scheduled to launch last year, has delayed its entry into the online travel arena until at least this summer.
Adapt or Die
A dramatic increase in the amount of corporate travel bookings made through custom Web-based systems is expected to cut deeply into sales made by traditional travel agencies — unless those agencies develop new services to remain competitive — according to a report released earlier this month by Jupiter Research.
"Travel agencies, in many cases, will have to adapt or die," Jupiter senior analyst Melissa Shore told the E-Commerce Times.
Shore noted that while "travel agencies are not going away," she said that in order to survive, they will need to evolve away from only offering automated services to providing value-added services to corporate clients. Those enhanced services could include negotiation of corporate rates with travel sellers.
Other potential enhanced services, according to Jupiter, include travel expense management and event planning.