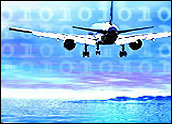 A new study by venerable information resource Consumer Reports concludes that consumers are no likelier to find the cheapest airfares through Web travel services than via "a low-tech telephone."
The Yonkers, New York-based consumer group's study of Cheap Tickets, Expedia, Lowestfare and Travelocity revealed that some sites play favorites and give top billings in their flight listings to advertisers, that the lowest fares are not always listed online, and that sometimes getting the low fare means having to travel at odd hours with many layovers.
The findings come on the heels of IDC projections that online ticket sales will triple from over $5 billion (US$) in 1999 to over $18 billion in 2004.
Playing Favorites
The new report, published in the latest Consumer Reports Travel Letter (CRTL), was careful to say that its research "came to no firm conclusion on whether travel Web sites are biased because of deals with airlines." However, the report did say there was disturbing evidence of favoritism.
Among CRTL's findings was that at Travelocity, "featured airlines" — those that had advertising deals with the company — were listed first 48 percent of the time, but their fares were not always the cheapest when they occupied the top spot.
The report also found that Lowestfare, which has a contract arrangement with TWA, listed TWA as the first choice 50 percent of the time. No other site listed TWA more than 23 percent of the time. Additionally, the TWA routings sometimes involved connecting flights when other itineraries that were listed lower offered nonstop flights.
In comparing the results from the four Web sites to results from Apollo Galileo, a major computer reservations system (CRS) used by travel agents, CRTL found that some airlines offering low fares were absent from the online travel sites. Southwest only appeared at Travelocity, and Vanguard was absent from both Expedia and Lowestfare.
One airline executive was blunt in his criticism of such biased travel booking. The report quoted Al Lenza, vice president of distribution planning for Northwest, as saying, "Advertising is okay, but it shouldn't influence the flight selections. We're just not going to have our inventory be used to mislead the customer."
Regulating Travel Sites
Although existing laws outlaw favoritism on airline-owned computerized reservations systems, such as Sabre, the rules do not apply to traditional or online travel agents. The U.S. Department of Transportation (DOT) is currently reviewing the rules to see if they should be expanded to apply to travel agents.
One driving force behind the DOT's review is Orbitz — the online travel site owned by American, Continental, Delta, Northwest and United. Critics warn that Orbitz will create extreme turbulence in the online travel industry by restricting access to flight information and low-priced tickets, ultimately forcing out competition.
Low Fare Factor
Although many consumers log on to travel sites expecting to get better fares than those offered by their local travel agent, CRTL said that the low fares listed by the travel sites were often no cheaper than Apollo Galileo's offerings for the same route.
CRTL did find that the Web sites often produced better results when flights were requested weeks or months in advance. For example, when CRTL researchers logged on to find a flight between Chicago and Los Angeles departing four months from the date they searched, they found that each of the four online systems produced equal or better fares than Apollo Galileo.
The Web sites also had the edge when researchers were flexible about their departure times.
It should be noted that just because a travel site lists a low priced fare, it does not mean that fare is available for booking. When CRTL searched for the cheapest fare from Newark to Los Angeles, Cheap Tickets quoted a fare of $232. However, that fare was not available, and the cheapest available itinerary was $423 — and required six legs.