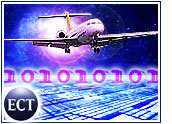 While other dot-com businesses falter and stall one by one, Web sites in the e-travel sector keep on flying.
There are a number of reasons for the online travel triumph, but mostly it has to do with the fact that booking travel reservations was computerized long before being computerized was de rigeur. The Sabre reservation system, for example, was used by travel agencies long before consumers ever considered owning their own computers.
Online travel sites have now put the robust technology that agents were using for years into the hands of the customers.
It was a peaceful transfer of power — unless you ask the travel agents themselves. Trade groups such as the American Society of Travel Agents (ASTA) assert the travel industry will be faced with anti-competitive price hikes and limited choices, if consumers gain direct access to the ticketing process at travel mega-sites. Hold on to that thought.
Jet Stream
Remember sitting across from your travel agent while he or she hammered out a million key strokes? It seemed so high-tech and mysterious way back then. Now, as I book my own reservations on a regular basis, I marvel at how fast I can search, select and reserve seats, hotel rooms and cars.
The technology is there, but the key to electronic commerce becoming the norm, rather than a cultural novelty, is to mainstream it. If there is a poster child for the success of this shift, it's online travel.
Numbers Game
As usual, the numbers tell the story: First consider the rapid acquisition of new users. A study by cPulse found that the number of new users to niche travel sites increased 82 percent in the third quarter of 2000, as compared to one year earlier.
A study by PhoCusWright found 21 million people bought travel services online in 2000, compared with 11 million the previous year. Of those 21 million, 7 million of them now buy their travel exclusively online.
PhoCusWright also found 80 percent of respondents said they frequent travel sites because the sites are easy-to-use. Fully 91 percent said they use travel Web sites because the price is right.
According to venerable Forrester Research, online travel sales will skyrocket to US$29 billion by 2003.
Up and Away
Still, if online travel is to sustain itself as the major player it is already becoming, the free enterprise system will need to shift into high gear. If there is one thing we have learned the hard way in the e-commerce realm, it is to never rest on your laurels, and never, never get too comfortable. The two biggest players in the Net travel game understand this principle, to their credit.
Just last week, Microsoft's travel giant, Expedia, unveiled a revamped site that is both easy-on-the-eyes and simple-to-use. Four years of blood, sweat and tears — and about $30 million — produced a powerful, streamlined site that allows users to find more combinations on pricing and schedules, and gives them the option to sort flights by price, flight duration and departure times.
Best of all, if the user changes his or her mind in the middle of a booking, the choices made can be revised on the current screen, rather than starting over.
For those who think major competitor Travelocity is intimidated by Expedia's new muscle, think again.
Simultaneously with Expedia's splashy debut, Travelocity introduced its own next big thing. The site's latest technology lets users click on lowest destination fares and instantly see a three-month calendar of the flight's availability. Travelocity spent a year and a half, and $5 million, to bring its new site into the gate.
Big Bird
Ready to take off this summer is Orbitz, the mega-site being created by the major airlines themselves. Orbitz claims it will offer broader fare searching capabilities and lower costs. Orbitz, however, was supposed to debut last summer, but wasn't quite ready.
Now, 20 state attorneys general have asked the U.S. Department of Transportation (DOT) to carefully investigate the antitrust issues raised by the site, questions that were already being reviewed by the DOT and the U.S. Department of Justice.
Even so, other groups, such as ASTA, are finding some of their own gripes neutralized. ASTA complained to the Justice Department that the big travel sites would pose unfair competition and force them into oblivion.
While it is true some mom-and-pop agencies may fade out, the big online companies have already absorbed many of the displaced personnel from brick-and-mortar companies.
The online travel industry may prove itself a shining example for other industries striving to find a model that works wonders with clicks and mortar.
In the meantime, fasten your seatbelts because e-travel is ready for takeoff.
What do you think? Let's talk about it.

---
Note:
The opinions expressed by our columnists are their own and do not necessarily reflect the views of the E-Commerce Times or its management.
---