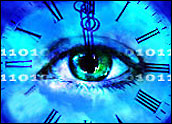 Reacting to changes in Internet browsing fostered by Web 2.0 applications, Internet market research company Nielsen//NetRatings is adding to its toolbox two new ways of measuring Web site use.
The company's NetView syndicated Internet audience measurement service will now include "Total Minutes" and "Total Sessions" metrics, Nielsen//NetRatings said. NetView always reported average time per person and average number of sessions, but, the company claims, the new metrics "deliver greater perspective on total engagement across sites."
The change became necessitated by the spread of rich Internet application (RIA) technologies, including Ajax (Asynchronous Javascript and XML) and streaming, the company said. Stating that rich Internet applications have rendered page view metrics less accurate, Nielsen//NetRatings has added metrics such as "Total Minutes" and "Total Sessions" to its NetView measurement service.
"While a page view metric under-credits such engagement, the total minutes metric provides a common denominator for user behavior that is independent of site design," the company said. These technologies, while significantly improving the experience of Web browsing, rendered obsolete some of the trusted methods of measuring site popularity developed during now fading days of Web 1.0, the company said.
A Better Measurement
For example, Nielsen//NetRatings noted that Ajax allows browsers to refresh content without reloading full pages. Also, streaming, whether it be video, sports scores or other dynamic content, is reproduced within single pages or a media player, said Nielsen//NetRatings.
"While a page view metric under-credits such engagement, the total minutes metric provides a common denominator for user behavior that is independent of site design," the company said. The new metrics provide "fair measurement" of sites — such as those offering online gaming — that were usually misrepresented by page view statistics, Nielsen//NetRatings contended.
"The difference between time spent and page view metrics varies by Web site category," the company acknowledged. To illustrate, it noted that YouTube visitors spend more time per page than those checking out MySpace pages. "While MySpace may be able to serve more ads because of its number of page refreshes, the time spent ratio is an important comparison of audience engagement on the two sites," said Nielsen//NetRatings.
Time Isn't Everything
Nielsen//NetRatings' switch to time spent as a Web site ranking metric "is constructive in that it breaks the tyranny of page views," said Scott Karp, editor and publisher of media blog Publishing 2.0. However, he said, the company's new tools are not a panacea.
"Unfortunately, time spent is also problematic because it assumes that more time spent is a measure of a Web site's success," Karp told the E-Commerce Times. "If Google is a top-ranked site, it should be because people spend as little time on the site as possible," he added. That's because Google is at its best when it returns search results quickly, "and people immediately find what they're looking for in the first search."
Web measurement companies, as well as the advertisers that rely on them to pick lucrative sites for their marketing dollars, face a conundrum, Karp wrote in his blog. "The problem is that the Web is not a monolithic medium," he wrote. "Reading a blog, using instant messaging and using Web search are utterly different — the idea that one metric can be used as a yardstick to compare them is absurd on the face of it."
Getting Engaged
Using its new systems, Nielsen//NetRatings produced a list of the "most engaging" Web sites. With the time factor given new relevance, AOL led sites as ranked by total minutes spent per viewer. It was followed by Yahoo and MSN/Windows Live, said Nielsen//NetRatings.
"The majority of time spent at these properties was driven by their instant messaging applications and e-mail sites, which accounted for 63, 54 and 47 percent of their total minutes, respectively," explained the company.
Fourth on the list came Fox Interactive Media, followed by Google, eBay, and YouTube. Windows Media Player helped Microsoft make the list of the top 11 sites while iTunes did the same for Apple, said the researchers.
"EA — Electronic Arts Online was the only Web brand to break into the top 10 when ranked by total minutes rather than unique audience, primarily driven by the very high time per person found on its Pogo.com gaming site," said Nielsen//NetRatings.
The New Wave
The new Nielsen//Net Ratings system is "part of a trend" occurring in the industry, said Andrew Frank, a research vice president with Gartner. "Media companies and advertisers are looking at more granular metrics to better measure consumer engagement with advertising and media content," Frank told the E-Commerce Times. "I don't think it's a gimmick. I think it's something worthwhile. It's going to accelerate the evolution of media toward a more accountable status and it's going to also shed light and finally answer the old riddle about which half of my advertising money is truly wasted."
Information about time spent on sites will be most useful for "traditional brand marketers looking for more of a psychological effect or emotional connection with customers," advertisers that "are going to look toward more sticky media, media where people spend time and invest their attention," Frank said.