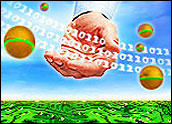 Google has been outspoken on the subject of Net neutrality: It does not want to see Internet service providers limit accessibility based on pricing or other criteria. Now, it is offering consumers the tools to observe firsthand how encumbered their Internet access can be if an ISP prioritizes content.
These tools, which are available immediately, are part of a larger research initiative just unveiled by Google's Vint Cerf, chief Internet evangelist, and Stephen Stuart, principal engineer. In a blog post, the two introduced Measurement Lab, or M-Lab, an open platform that provides measurement tools and other resources for researchers.
Much of the Measurement Lab functionality is already on the market. "Researchers are already developing tools that allow users to measure the speed of their connection, run diagnostics, and attempt to discern if their ISP is blocking or throttling particular applications," Cerf and Stuart explain in their post. "These tools generate and send some data back-and-forth between the user's computer and a server elsewhere on the Internet."
However, researchers lack widely distributed servers with ample connectivity, according to the post, which poses a barrier to the accuracy and scalability of these tools. Researchers also have trouble sharing data with one another.
No Tech Savvy Required
M-Lab addresses these problems by providing researchers with 36 servers in 12 locations in the United States and Europe. The data collected will be publicly available for other researchers to build upon.
Meanwhile, Google has made available three tools that even not-particularly-tech-savvy consumers can use — and two more are en route. They are a network diagnostic tool, which tests connection speeds and diagnoses the problems limiting speed; Glasnost, which tests whether BitTorrent is being blocked or throttled; and a network path and application tool that diagnoses common problems affecting last-mile broadband networks.
Coming soon is DiffProbe, which will determine whether an ISP is giving some traffic a lower priority than other traffic, and NANO, which will determine whether an ISP is degrading the performance of a certain subset of users, applications or destinations.
You don't have to be a techie to use the tools, Robb Topolski, chief technology consultant for Free Press and Public Knowledge, told the E-Commerce Times. "They also are effective at pinpointing larger patterns of certain traffic paths of ISPs."
It is unclear whether putting such data in the hands of consumers will lead the ISPs to change their behavior. Following the Comcast debacle — the FCC found last year that it was interfering with Internet access without providing proper notification to customers — more ISPs have been forthright about their practices.
Cox Cable, for instance, just disclosed its plans to launch a trial of a new network management system that will prioritize certain traffic — for example, videos over file-sharing — noted Topolski.
The Cox announcement comes as no surprise, Jonathan Kramer, principal of Kramer Telecom Law Firm, told the E-Commerce Times. "The only question is whether they and other ISPs will follow Comcast's apparent model of favoring their own packets over packets to other providers' services."
Tiered Services
It is unlikely ISPs will stand down on this issue, though. Historically, providers have tiered content and transport based on pricing. "The whole issue of network neutrality flies in the face of this," said Kramer.
For example, telephone companies have provided tiered services, offering higher speeds for more money, he said. Cable companies provide tiered services, too, offering more content for more dollars.
"It is no surprise, then, that all of the major players want to continue this tradition of limiting either speed or content to increase their bottom lines," commented Kramer.
"At the end of the day, while every Internet packet is created equally, it is not treated equally," he pointed out, "and that is the real issue of network neutrality."
A number of companies are undertaking experiments that will limit user access based on price, T. Barton Carter, professor of communication and law at Boston University, told the E-Commerce Times. The FCC decision about Comcast appeared to give the green light for that — just so long as the practices are transparent and not unduly uncompetitive, such as blocking access to competing services.
That may change, though, under the Obama Administration's FCC, Carter observed — although it is difficult to say with any certainty.
"Certainly the FCC head under the Bush administration and Comcast were not what you would call close friends. To what degree and in what direction the FCC may change its policies on all this remains to be seen," he said, "but I think we will have a clearer idea in the near future."