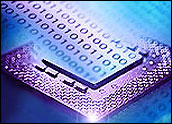 National Semiconductor today reported a GAAP profit of US$126.4 million, or 32 cents per share, on revenues of $571.2 million for the fourth quarter of fiscal 2004, which ended May 30th, 2004.
National Semiconductor's fourth-quarter sales were 34 percent higher than the fourth quarter of fiscal 2003, according to the company, and 11 percent higher sequentially than the third quarter of fiscal 2004, when the company reported revenues of $513.6 million and earnings of 24 cents per share.
Gross margin rose to an all-time high of 54.4 percent in the fourth quarter, compared to gross margin of 44.6 percent for the fourth quarter of fiscal 2003 and 51.4 percent in the third quarter of fiscal 2004.
"National's focus on analog is clearly paying off in the form of higher returns to our shareholders," said Brian L. Halla, National's chairman, president and CEO. "Gross margin increased to 54 percent and our return on invested capital exceeded 32 percent in the fourth quarter."
For the entire 2004 fiscal year, National's gross margin was 51 percent. Last June, National reported gross margin of 43.4 percent for fiscal 2003. According to company statements to the press, the consistent improvement in gross margin has been driven by National's focus on increasing sales and market share in its higher-value, higher-margin analog products.
Bookings Higher in Q4
National's worldwide bookings increased 45 percent year-to-year and 2 percent sequentially from the third quarter (which had 14 calendar weeks compared to a normal 13-week quarter).
On a weekly run-rate basis, fourth-quarter bookings rose approximately 10 percent from the third quarter. Bookings for analog products grew more than 50 percent year-to-year, led by growth in National's power management, amplifiers and data-conversion products.
New orders for portable power management products and data converters outperformed the company's average both year-to-year and sequentially from the third quarter.
National's Different Geographies
With respect to National's different geographies, the Asia Pacific region experienced the strongest fourth quarter bookings growth both year-to-year and quarter-to-quarter. Bookings for North America declined from the third quarter, primarily due to the distribution channel. Bookings in all regions grew substantially year-to-year. Total company bookings were well above billings in the fourth quarter.
The Company's bookings strength in the fourth quarter was driven largely by National's OEM customers. Bookings from distributors moderated during the quarter as National's delivery leadtimes returned to more normal levels. Distributors' resale rates of National products to their end customers increased sequentially in all regions.
Two regions recorded double-digit percentage increases in resale rates in Q4 compared to Q3.
Guidance for Q1, Fiscal Year 2005
During the first quarter of FY2005, National anticipates revenues to be sequentially flat to up 3 percent from the fourth quarter. Based upon the revenue range, gross margins are expected to improve and operating expenses are expected to be comparable to fourth-quarter expenses.
"Heading into the typically seasonal August quarter, we are encouraged by the fact that this year National's bookings were strong and our backlog grew during the fourth quarter," Halla said. "We will continue to aggressively manage our business to further improve our gross margins by expanding our position in key analog areas such as power management, amplifiers and data converters."