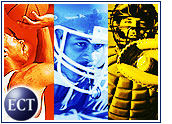 Three months after being called out of the game, sports e-tail site MVP.com began a comeback bid with its relaunch Tuesday by CBS SportsLine.com (Nasdaq: SPLN).
SportsLine said it plans to tightly integrate the MVP.com store into its content-based sports site, with links to items for sale displayed alongside related news and feature stories.
"We've got a powerful blend of assets," SportsLine vice president of e-commerce Dan Head said. "We've proven our ability to convert our large audience of CBS SportsLine.com users into shoppers."
Worthwhile Brand
SportsLine bought the domain name and other assets of Chicago, Illinois-based MVP.com in January, saying it represented a "brand that's worthwhile."
SportsLine then partnered with USA Networks to help relaunch the site, with two of the media firm's subsidiaries designing and operating the e-commerce site.
The companies said MVP.com will also be marketed to 5 million Web users associated with USA Networks properties, including Ticketmaster.com and Citysearch.com.
"Revenue from transactions will inevitably grow into a larger piece of the total entertainment pie, and we believe the new MVP.com site combines all the right features," said Lisa Brown, president and chief executive officer of Electronic Commerce Solutions, a USA Networks subsidiary.
High Hopes
MVP.com launched late in 1999 with US$65 million in cash and an all-star roster of sports celebrities on board, including hockey great Wayne Gretzky, basketball legend Michael Jordan and quarterback John Elway.
However, like other pure-play Internet companies, MVP.com quickly ran into financial trouble. A year after launching, it slashed half of its workforce and within two months announced it would close and sell off its assets.
Its fate mirrored that of competitor Fogdog, which saw its fortunes plummet following a modestly successful IPO in December 1999. Fogdog was bought out by Global Sports last fall.
Right Strategy?
Analysts now say that brick-and-click combinations pose a serious challenge to pure-play e-tailers in the sporting goods field. Earlier this year, WorldWideSport.com, which operates both online and in retail stores, said it saw its sales rise 40 percent during 2000.
But some analysts also acknowledge that the combination of content and commerce that CBS SportsLine is brewing might also prove a powerful force in the long run.